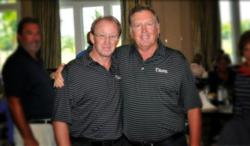 I joined Delaire 25 years ago, and that was one of the best decisions I have ever made.
Delray Beach, FL (PRWEB) August 28, 2012
Delaire is well known for its superior level of service, so it is no surprise that it has a strong and very committed club team. Such a dedicated team is the result of a club that stands amongst the best country clubs in South Florida. "I've lived here for over two decades and have had the benefit of working with the same golf professional," says Allen Kilik, Delaire member.
Delaire recently had the honor of celebrating the 25th year anniversary of its head PGA Professional, Joe Jones. Jones was one of the original 30 mini-tour players in America and won eight amateur tournaments in upstate New York. He also coached the USA and Europe Maccabi Trans-Atlantic Cup teams in '96 and '98.
Jones, a member of the PGA of America, began his career at Glen Oaks Country Club in Old Westbury, Long Island. "I joined Delaire 25 years ago, and that was one of the best decisions I have ever made. With 27 holes of golf and relatively few members, this is a golfer and golf pro's dream. I don't have to spend time juggling tee times… instead I spend time teaching members," says Jones.
Part of what makes Joe's job so fulfilling is that he has come to know and teach multiple generations of families. "There is no better feeling than teaching the children of the children whom I taught to play golf," says Joe Jones.
Jones has a tremendous sense of pride as he talks about Delaire; he mentions the 27-hole Joe Lee designed course, the low member to hole ratio and the friendly members. "I was here at the very beginning" says Jones, "and now with our new clubhouse there just isn't a better facility." The new clubhouse has a fully stocked, newly designed pro shop right on site, a convenient bag station, and built-in cameras that allow attendants to see members prior to their arrival so that they can be taken care of immediately.
The Delaire golf staff understands and appreciates the value of forming a bond with the members, and they do so flawlessly. In addition to learning the names of each member, they take the time to learn their particular preferences. Ultimately the only way to truly provide excellent service is to anticipate the needs of the members.
At Delaire nearly all of the professional staff has been there for over a decade, many for over 20 years. Billy Jones, brother of Joe Jones and Assistant Golf Professional, also recently celebrated his 25th anniversary at Delaire.
Delaire Country Club is a private community of 324 single-family homes located around a superior golf course (with no tee times). Delaire is ideally situated in Delray Beach near Boca Raton, Florida. Recent club improvements include an all-new fitness center, with multi-faceted options for members to improve their health and their game, a new pool and children's play area, and a brand new clubhouse with an outstanding list of amenities. To learn more about the lifestyle available at Delaire Country Club, contact Executive Coordinator Liz Shaw at 561-499-9090, or visit http://www.Delaire.org.