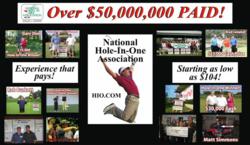 When I had my full sight, it wasn't that big of a surprise. Now, it's a surprise but always fun.
Ft. Worth, TX (PRWEB) August 28, 2012
While most amateur golfers are lucky to nab their first hole-in-one, John Grace has already had six. And if that isn't extraordinary enough, he's legally blind.
"I just got lucky, I guess," he said jokingly about this hole-in-one ace at Ridglea Country Club this past July. "These days, I'm just trying to get it in the direction of the green."
Grace said he usually relies on a golf buddy to keep an eye on the ball for him, since he cannot. More than several people had their eye on the ball the day of his hole-in-one. Grace was part of a mass of golfers who descended on Ridglea Country Club in Fort Worth the annual Ridglea 400 Golf Classic. More than 200 golfers took part in the three-day event. Cash prizes were insured through National Hole-In-One Association, a Dallas-based provider of hole-in-one insurance and other types of prize contest insurance.
Head golf professional Keith Davidson lasered the distance before and after the event and said news of the ace spread quickly among other golfers and event participants. The ace occurred on the 15th hold at a distance of 185 yards and the pin was to the front. Grace, who made the shot with his 7 wood, told a nearby golf buddy that he was able to hear the ball go in the cup from the sound it made.
"The rest of the group gave him high fives as we all congratulated him," Davidson said.
A seasoned amateur golfer, Grace, 62, grew up playing golf in Fort Worth and now gets in between 50 to 100 rounds each year. Ironically, he has scored four of his aces after his eyesight started going bad.
"I made two hole-in-ones before my eye problems; the first one was back in early 1980s," he said. "At one time I was a decent player with a 1 to 2 handicap. When I had my full sight, it wasn't that big of a surprise. Now, it's a surprise but always fun."
National Hole-In-One Association's corporate headquarters is in Dallas, Texas, with offices also in London and Melbourne. Combined with Grand Prize Promotions, the two companies have covered over 300,000 events and have paid out in excess of $50 million in cash and prizes.
Established in 1981, National Hole-In-One Association is the largest, most experienced and respected hole in one insurance prize provider in the world. Grand Prize Promotions was founded to continue this tradition of excellence in servicing unique insurance coverage's with "attention-grabbing prize insurance" business contracts beyond hole-in-one contests. Their expertise is in specialty insurance prize programs designed to be fun, cost effective promotions for the automotive industry, jewelry stores and other retail industries, tradeshows, sporting events, direct mail campaigns, online contests, radio and television campaigns.
They also provide weather insurance (rain, lightning, wind, adverse conditions) and event cancellation insurance for venues in the United States and throughout the world.