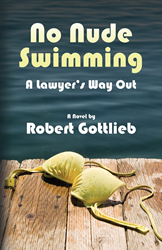 I was sorry when the book ended - a great read. It forced me to download his next book.
Los Angeles, CA (PRWEB) August 30, 2012
"No Nude Swimming, A Lawyer's Way Out" authored by Robert Gottlieb has hit "Best Of" rank in the Humor/Comedy Fiction category of Dan Poynter's 2012 Global EBook Awards. Winners will be announced at the awards ceremony August 18, 2012 in Santa Barbara, California. Each of the twenty one chapters of No Nude Swimming begins with a humorous quote.
Gottlieb explains that the main character in his novel is attorney Sam Weisman. His wife wants a divorce, and his law practice is threatened by a hostile takeover. Pulled one way by two hilarious con artists who plan to steal his dreams, and another by his family and the real estate professional who's worked her way into his heart, Sam struggles to hold onto his sanity, his self-esteem, and the woman he loves. Grasping the end of his rope in one hand and the end of his rainbow in the other, he teeters between the abyss ... and the pot of gold!
Sam climbs the ladder of success and when he gets to the top of that ladder he realizes that he climbed the wrong ladder and is thrown down to the bottom of the ladder by usual circumstances, but rises again in an unusual way.
No Nude Swimming touches all emotions. Gottlieb's great sense of humor certainly translates through his book. He takes difficult life events that happens to us all—divorce, loss of work, financial difficulties—and shows us that time and perseverance with a little humor will get us through. No Nude Swimming is an enjoyable read and recommended especially to one whose life seems out of control. Your problems will seem small in comparison!
About the Author - Robert Gottlieb maintained a private law practice in Los Angeles and then in San Diego. His career as a lawyer provides the backdrop of experience against, which he has painted with a broad stroke, the disillusionment and exhaustion that haunt the majority of attorneys practicing today.
Realizing that Los Angeles was a magnet for the world of dreamers seeking recognition and success in the arts and entertainment field, Robert conjured a theory that God created earthquakes for the purpose of bringing talent and the crazies to Hollywood, shaking the world until the fallout from other countries ended up in the United States.
God then shook the world again, according to the theory, and whatever had originally fallen into the United States now fell into California. God shook the world with yet another earth quake, and what shook loose fell into Hollywood, bringing ideas ranging from the bizarre to the ingenious and elevating a few to enjoyment of huge success.
Humorous and often absurd stories related to him by other attorneys didn't take Robert long to realize that the practice of law, like any other business, is about people much more than about the law itself.
Visit the website at http://www.nonudeswimming.com to make a purchase.