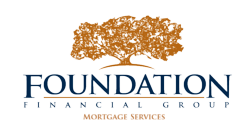 Foundation Financial Group employees are highly qualified and motivated individuals and are responsible for this milestone and our ongoing success
(PRWEB) August 29, 2012
Foundation Financial Group continues to achieve significant milestones in its goal to become the nation's largest financial services company. The company has surpassed the $4 billion mark in loans funded and continues to experience strong growth across all of its business sectors.
"Foundation Financial Group employees are highly qualified and motivated individuals and are responsible for this milestone and our ongoing success," said CEO Mark W. Boyer. "Their dedication and persistence continue to build Foundation Financial Group's market share across the United States."
With the number of loans funded by Foundation Financial Group, the company continues to help Americans afford their homes and improve their financial situations. Foundation Financial Group is known for its fast turnaround times and exceptional customer service.
Foundation Financial Group experienced record-breaking months in the fourth quarter of 2011 and through third quarter of 2012. The company's mortgage division ended November 2011 at 11 percent higher than November 2010, which was the record for Foundation Financial Group's mortgage division. The mortgage division finished January 2012 at three percent higher than November 2011, which was also a previous record month for the company's mortgages. The months of March 2012, April 2012 and June 2012 were more record-breaking months for its mortgage business. Overall, the company finished the second quarter of 2012 at 10.4 percent higher than its previous best quarter. The company's insurance division and tax divisions also experienced a record-breaking second quarter.
Foundation Financial Group gives back to the communities it serves in a big way. Since 2010, through financial contributions, in kind donations and volunteerism, the company's social investment is over $969,000 in support of philanthropic initiatives with a focus on education, workforce development, environment sustainability as well as health and wellness. Through third quarter of 2012, Foundation Financial Group employees contributed more than 1,000 hours of community service to good causes across the country.
The company also provided $15,000 to two individuals in its Funding Your Finances giveaway. Currently, Foundation Financial Group is giving away two different luxury vacation packages from Southwest Airlines Vacations, along with $5,000 spending cash for each trip, as part of its 2012 Start Living giveaway.
About Foundation Financial Group
Foundation Financial Group is a multibillion dollar financial services corporation. FFG offers its customers Best in Class service through its Insurance, Retirement, Mortgage, and Tax Services. Named one of the fastest growing financial companies in the country by INC magazine, FFG has continued to grow its nationwide presence with over 100,000 new customers per year in 38 states. In addition to the value that Foundation Financial provides every customer, it is also dedicated to its communities and the people who live in them. Through a vast array of philanthropic endeavors the company not only provides significant monetary donations but also fosters a workforce environment that encourages all team members to personally make a difference. Foundation Financial is committed to its strong focus on customer service and community investment as it continues to grow and compete with the largest financial institutions in the world.
Foundation Financial Group reviews all public relations inquiries. For additional information, interview and image requests, contact the Foundation Financial Group Public Relations team at 866-659-3200.