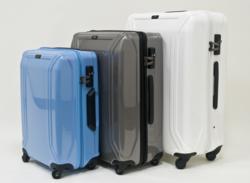 3 new colors - White, Sky Blue, and Granite - are added to their successful lightweight luggage collection, Zero Air.
Piscataway, NJ (PRWEB) August 30, 2012
ZERO Halliburton, synonymous with exceptional strength, and recognized for its iconic design, durability, and superior performance will be expanding their successful Zero Air luggage collection with the addition of 3 new colors: WHITE, SKY BLUE and GRANITE to the existing available colors: black, pearl blue, silver, pearl red and pearl violet.
Zero Halliburton, looking to provide the ultimate travel experience, first introduced the Zero Air collection in January 2012. The Zero Air's revolutionary design features high impact polypropylene shells with their signature reinforcing ribs adding only minimal weight and maximum durability. Weights of the cases vary for the 20" carry on at 4.8lbs to the 28" case with a weight of 7.9lbs.
About Zero Halliburton
Since 1938, Zero Halliburton has set the standard for protection and durability using only premium materials combined with outstanding craftsmanship becoming an icon for strength, security, endurance and fashion within the travel goods industry.