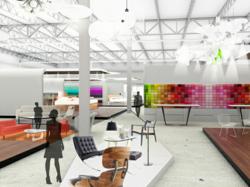 "We're listening and responding to the needs of our customers, and we believe that these larger Studios will help them envision how to live with authentic modern design," explains DWR President and CEO John Edelman.
Stamford, Conn. (PRWEB) August 27, 2012
Design Within Reach, Inc. (DWR), today announces a real estate expansion plan that increases the company's retail presence to better service both retail consumers and trade professionals. Executed in three markets across the country, the retail initiative follows a successful two-year period of product and partnership development that has greatly expanded the assortment and changed the in-store and digital customer experience. Doubling the size of Studios in New York and Miami, as well as opening a new Studio in Costa Mesa, Calif., allows Design Within Reach to present merchandise in stylistically defined room vignettes outlining decor solutions for living, dining, outdoor, work, and sleep.
Founded in 1998, Design Within Reach made modern design accessible to the U.S. market through its groundbreaking catalog and e-commerce site. DWR has evolved into a destination for its exclusive collection of modern furniture and accessories to complement the iconic mid-century classics it has offered for years. The Studio expansion provides design enthusiasts the convenience of shopping a broader assortment of DWR furniture in an engaging environment with the help of professional design associates. "These expanded locations allow us to show the modern classics from Herman Miller®, Knoll®, Fritz Hansen and other iconic brands alongside the designs we've curated through new partnerships with B&B Italia and developed with young designers like Jeffrey Bernett and Nathan Yong. We're listening and responding to the needs of our customers, and we believe that these larger Studios will help them envision how to live with authentic modern design," explains DWR President and CEO John Edelman.
To bring this strategy to life, DWR continues its partnership with New York-based architecture group Sayigh+Duman. Laith Sayigh led the Diller Scofidio + Renfro design team charged with creating the Lincoln Center Pedestrian Bridge and was a designer with Foster + Partners in London. Koray Duman is a LEED-certified architect and was the lead architect at Frederick Fisher and Partners, in charge of the Santa Barbara Museum of Art. "We're excited to extend our collaboration with Design Within Reach and continue to develop a whole new experience of how to display its distinctive furnishings, while conveying the possibility and potential that Design Within Reach can offer its clients," says Duman. The firm created a successful DWR Studio concept at the company's headquarters in Stamford, Conn., which opened in 2011.
Design Within Reach is also collaborating with NYC-based design firm 2x4 to expand its approach to branding through interior and environmental design. Founded in 1994 by Michael Rock, Susan Sellers and Georgianna Stout, 2x4's work spans strategy and design from culture to commerce. Speaking about the collaboration, Stout says, "Having worked with design-led companies such as Vitra, Knoll®, Maharam and Nike, 2x4 is thrilled to bring its experience within the furniture industry to Design Within Reach."
All new and expanded locations are expected to open this fall. In New York, construction to expand DWR's SoHo Studio (110 Greene St.) to 8,800 square feet has commenced, and a temporary retail space is now open at 68 Wooster St. In Miami, the Studio is relocating from its current Lincoln Road location to a brand new 13,800-square-foot space within the Miami Design District (4141 NE Second Ave.). Concurrently, DWR is opening a 22,000-square-foot Studio in Costa Mesa, Calif. (3303 Hyland Ave.), within the South Coast Collection, a leading destination for design and interior retailers. Managing Director James Ritman of Newmark Grubb Knight Frank is representing the company's future retail expansion efforts. Progress on all of the retail expansions can be tracked on the "Design Notes" blog (blog.dwr.com) and Twitter (twitter.com/dwr_tweets). Design Within Reach is hiring: http://www.dwr.com/careers.
Design Within Reach, Inc., founded in 1998 and headquartered in Stamford, Conn., is the source for the best in authentic modern design. The company markets and sells its furniture and accessories to both residential and trade customers through its retail Studios in the United States and Canada, dwr.com and its Connecticut-based phone sales team at 1.800.944.2233. For inquiries regarding DWR Contract, visit http://www.dwrcontract.com.
For additional images and information contact Kim Phillips at pr(at)dwr(dot)com.