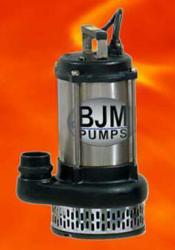 I believe this will become a very strong line within our robust commercial and high occupancy dwelling market segment
Wallington, NJ (PRWEB) August 28, 2012
Pump Express, the largest dealer of BJM commercial wastewater pumps in New York and Northern New Jersey, is adding BJM's new single-phase, high temperature pumps to its catalog. The new pumps mark the addition of a small commercial grade model to BJM's Fahrenheit (F-Series) line, designed to operate in liquids too hot for conventionally built submersible pumps (140-200°F). The single phase model rounds out BJM's extensive line of high temperature pumps.
"Three years ago we came up with a high temperature, three phase pump that has taken off very nicely for us," says Jay Gallagher, BJM's Regional Sales Manger. "Since then we've been getting requests for the same pump in a single phase model from people who use steam in their heating. The single phase line is suitable for smaller applications like apartment buildings and college campus (dormitories) requiring pumps with 120 and 220 voltage. BJM is the only manufacturer in the industry offering a range this complete."
All single phase Fahrenheit pumps are supplied with a control panel, with starting components, as standard equipment. The pumps are offered in both cast iron and 316 stainless steel for corrosive liquids. They are available in dewatering and trash handling designs.
"I believe this will become a very strong line within our robust commercial and high occupancy dwelling market segment," says Pump Express Sales Manager Fred Hettinger who was instrumental in securing an exclusive Metro-area distribution agreement centering on BJM's commercial wastewater pumps last year.
"We've seen a steady demand for BJM's powerful Shredder Pump," says Hettinger of a submersible wastewater pump designed to shear debris before pumping it. "Since signing on with BJM we've found that more and more of our customers who trust us to provide them with top notch engineering and product support have been embracing the shredder pump equipment and it has ultimately become the gold standard in problematic sewage ejector pump applications. I believe that this new product line is going to further enrich our already strong offerings."
COMPANY INFORMATION
Pump Express is a stocking distributor and service facility for the world's leading manufacturers of pumps and equipment used in the treatment and transportation of water, wastewater, and other fluids. We serve the commercial, industrial, construction, institutional and utility markets. Our application engineers work with our clients to select the equipment that's right for their specific need.