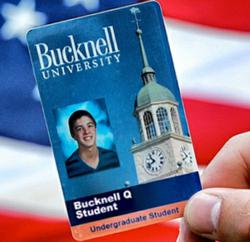 Lewisburg, PA (PRWEB) August 27, 2012
While the legal debate continues over Pennsylvania's new voter ID law, which requires voters to show a valid photo ID before casting their ballots in the Nov. 6 election, Bucknell University is continuing with its plans to ensure students can use their Bucknell ID when they head to the polls.
The new law allows students to use their university ID cards, but only if the cards include expiration dates. Some higher ed institutions, including Bucknell, do not currently print expiration dates on their ID cards. In response to the new requirements, Bucknell will provide expiration stickers that students can affix to their IDs, which is an option allowed under the law. Bucknell will begin distributing those stickers in September. They'll expire in fall of 2013. The University is also considering printing expiration dates on all new student ID cards starting in 2013.
The voter ID law has been surrounded by controversy since it was passed by lawmakers. Supporters say it's vital to protecting the integrity of elections by limiting potential voter fraud; opponents argue it will disproportionately impact elderly, minority, low-income and young voters. Legal challenges are now before the state's Supreme Court, which will hear arguments over the new law on Sept. 13.