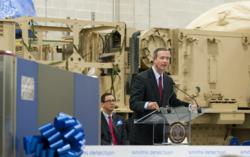 We are not only enhancing the State's ability to protect both our nation and our people, but also positioning Maryland as the leader in homeland security, creating jobs and growing our innovation economy."
Baltimore, MD (PRWEB) August 28, 2012
Governor Martin O'Malley today announced that Smiths Detection, Inc., will relocate its U.S. headquarters to Edgewood. The move is expected to add approximately 100 jobs to the 225 existing positions in the company's Harford County facility over the next two years. A world leader in transportation security, Smiths Detection provides government-regulated technology products and advanced services to global security experts and governments for chemical and biological warfare threat detection, including trace detection equipment, X-ray screening systems and other threat detection technologies.
"Smiths Detection has developed innovative products to address the most significant challenges we have faced as a nation since the attacks of September 11, 2001," said Governor O'Malley. "Working with Smiths Detection to expand its operations here in Maryland, we are not only enhancing the State's ability to protect both our nation and our people, but also positioning Maryland as the leader in homeland security, creating jobs and growing our innovation economy."
In September 2010, Governor Martin O'Malley visited Smiths Detection to recognize the company's contributions to the nation's armed forces and announce the results of a study assessing the economic impact of Maryland's military installations. During the Governor's visit, Smiths Detection demonstrated the advanced airport X-ray screening systems, lightweight chemical detectors for the U.S. military and Chemical-Biological Protective Shelter.
The State will provide a $750,000 conditional loan through the Maryland Economic Development Assistance Authority and Fund (MEDAAF) to assist in the Edgewood expansion. Harford County's Office of Economic Development will provide a training grant of up to $100,000.
"Smiths Detection will continue to make the investments necessary to be the leading provider of advanced security solutions for both domestic and international markets," said Lance Roncalli, Vice President of Sales, Americas, and U.S. Managing Director. "Growing our Maryland footprint gives us the opportunity to work more closely with core customers in and around Washington, D.C., whose mission is homeland security and to aid in safeguarding citizens, military trips, airports, ports, borders around the world."
Smiths' threat detection equipment is used to equip military forces and public service workers for chemical agent detection and biological warfare agent identification; airport security, transportation security and critical infrastructure security; customs officers responsible for contraband detection and cargo security (based on X-ray screening); and emergency services. The company is the unique supplier of Advanced Technology checkpoint X-ray units at Baltimore/Washington International Thurgood Marshall Airport.
ABOUT SMITHS DETECTION
Smiths Detection (http://www.smithsdetection.com) designs and makes advanced solutions to detect and identify threats including explosives, chemical agents, biohazards, nuclear, radiation, narcotics, weapons and contraband. A market leader worldwide in providing layered security technologies, Smiths Detection has plants in eight U.S. states. It partners federal and state government agencies and first responders to strengthen homeland security and safeguard the military. Major customers include the Department of Defense (DoD) and Department of Homeland Security (DHS). It is part of Smiths Group (http://www.smiths.com), a global leader in the practical application of advanced technologies.
ABOUT DBED
The Maryland Department of Business and Economic Development's mission is to attract new businesses, stimulate private investment and create jobs, encourage the expansion and retention of existing companies and provide businesses in Maryland with workforce training and financial assistance. The department promotes the State's many economic advantages and markets local products and services at home and abroad to spur economic development, international trade and tourism. As a major economic generator, the department also supports the arts, film production, sports and other special events. For more information, visit http://www.choosemaryland.org.
#####