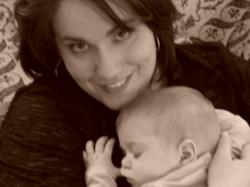 One child can change the world -- and she has.
Lubbock, TX (PRWEB) August 30, 2012
In 2003, Attorney Merinda K. Condra, after surveying her many blessings, started on a journey of adoption to find her oldest daughter. That journey resulted in the formation of Adoption Covenant, which nine years later, will receive the Congressional CAI Angel in Adoption Award, and which has found homes for hundreds of children in need. Adoption Covenant is a 501(c)(3) nonprofit child placing agency located in Lubbock Texas that has assisted children and families throughout the nation and the world. Adoption Covenant says they are "changing the world, one child at a time."
The little girl who started it all is now a third grader in Lubbock, Texas with a little sister who is in pre-kindergarten -- both of them a very long way from far eastern Russia where they started life -- both surrounded by love. According to Condra, both of them are "cherished as the miracles that God created them to be."
The Angels in Adoption™ program is CCAI's signature public awareness campaign that provides an opportunity for all members of the U.S. Congress to honor the good work of their constituents who have enriched the lives of foster children and orphans in the United States and abroad. In addition to the more than 140 Angels from around the country, several "National Angels" will also be recognized at the ceremony and gala for their dedication and commitment nationally and internationally to child welfare on a grand scale. This year's National Angels in Adoption™ are actress Katherine Heigl, singer/songwriter Josh Kelley and PEOPLE Magazine. Former National Angels include First Lady Laura Bush, Patti LaBelle, Jane Seymour, Muhammad Ali, the late Dave Thomas, Steven Curtis Chapman, Bruce Willis, Alonzo Mourning, Rhea Perlman and Kristin Chenoweth.
The Congressional Coalition on Adoption Institute (CCAI) is a 501(c)3 nonpartisan organization dedicated to raising awareness about the tens of thousands of orphans and foster children in the United States and the millions of orphans around the world in need of permanent, safe, and loving homes through adoption. CCAI's goal is the elimination of the barriers that hinder these children from realizing their basic right of a family.
For more information about Adoption Covenant, visit http://www.adoptioncovenant.org