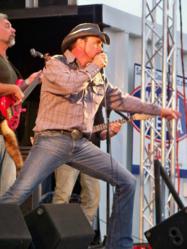 Elma, New York (PRWEB) August 28, 2012
For a 3rd year, the Made in America Store is holding a very special 9/11 Tribute Concert that promises to be loads of fun and is FREE.
This two day event starts on Friday, September 7th and continues on Saturday, September 8th. Hours are 11am to 9pm both days.
Headlining the entertainment both nights will be Nashville recording artist Ricky Lee, who be joined by band member Matt Pletcher, starting at 8:30pm. On Saturday night, they'll be joined by the rest of Ricky's band, The Mustangs.
Both nights, these headliners will be preceded on stage by other talented local bands…Turbulence and Diamondback on Friday and Not Quite Right on Saturday.
There will be plenty of food, too, including Hamburgers, Hot Dogs , BBQ Pulled Pork, and Smoked Chicken…all provided by Dale's Rollin' Smoke BBQ. Plus, Chain Saw artist Matt Hannah will put his talents and creations on display.
As always, active military personnel, as well as veterans, will receive a 10% discount on all store purchases.
Since opening in April of 2010, the MADE IN AMERICA STORE has re-captured the spirit of American manufacturing…selling only products that are 100% American-made and creating American jobs in the process.
It has become a movement and a symbol of America's resurgence, garnering international media attention and busloads of customers from across the country.
This special 9/11 Tribute Concert is a great way for folks to support this growing movement and to "Vote With Their Dollars".
The MADE IN AMERICA STORE is located at 900 Maple Street in Elma, NY, and online at http://www.MadeinAmericaStore.com.