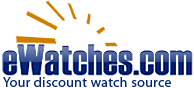 We have a lot of customers who almost treat it like a sport—like waiting for the best deals and buying the entire collection...
Hollywood, FL (PRWEB) August 28, 2012
eWatches, a premier retailer of discount designer watches for men and women, announced this week it will run its annual Labor Day weekend sales event the week before the holiday up until midnight on Labor Day.
The company, known for its extreme discounting business model, is poised to bolster 3rd quarter sales through the extension of the Labor Day Sale rather than restraining it to the weekend only. One of the most successful retailers of authentic discount designer watches, eWatches will take massive reductions on nearly its entire line.
"While running a sale for a very short amount of time can be an effective selling tool—in the marketing world what's called 'creating a sense of urgency'—our customers, for the most part, are repeat customers and they are savvy enough to realize that our discount designer watches are rarely found cheaper anywhere else," said Izac Ben-Shmuel, CEO, eWatches. "If they are given additional time to save even more than they would with our outstanding everyday prices, they are likely to purchase multiple watches and evangelize the eWatches name," he continued.
The company expects its most popular watch lines, such as the Swiss Legend Trimix Diver and the Invicta Angel collections, to enjoy elevated sales, as many of its customers wait for just such a savings event to collect many, if not all models, in a specific collection. "We have a lot of customers who almost treat it like a sport—like waiting for the best deals and buying the entire collection, whether it's watches for men or women," said Russell Ackner, VP of Marketing, The SWI Group. "That's the kind of sport where you pretty much always win," he added.
The eWatches Labor Day Sale will feature watches from a multitude of popular watch brands, including Swiss Legend, Lucien Piccard, Stuhrling Original, Bulova, Seiko, Glam Rock watches and many more.
The sale is currently live and will run through 11:59 pm ET Monday, September 3rd.
About eWatches:
eWatches.com is an award-winning internet retailer of discount designer watches serving tens of thousands of satisfied customers since the company's inception in 2003. In both 2007 and 2008, Inc. Magazine selected eWatches.com as one of 'America's 500 Fastest Growing Companies' in its annual Inc. 500 list. eWatches provides a superior shopping experience to its customers with:

Free Shipping on all domestic orders
100% Satisfaction Guarantee
Low Price Guarantee
30 Day Money Back Guarantee
To get the 411 follow eWatches on Facebook and Twitter at 'ewatchescom'.