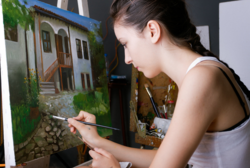 Myrtle Beach, SC (PRWEB) August 28, 2012
Artists looking to improve their skills and hone their talent should consider signing up for the Watermedia Workshops being held at Springmaid Beach Resort this November. Springmaid has been hosting these helpful workshops for over 30 years and they have become some of the most popular in the Southeastern United States. The program is designed to help both professionals and students by offering classes for beginner, intermediate and advanced instruction.
Watermedia Workshops at Springmaid Beach Resort are held in three one-week sessions. Attendees will be able to register for a particular workshop or all of the available workshops. If a participant enjoys a certain instructor, they can sign up for multiple weeks under that instructor. These artistic workshops are an ideal place to meet people with similar interests and possibly make some new life-long friends. There is also the entertaining spousal and guest programs for those who want to come in pairs.
There is quite the eclectic group of instructors. These teachers, authors, and artists come from all over the globe to guide these workshops. Bringing all of this exceptional talent together under one roof makes for an unmatched experience. They will help attendees strengthen their creative drive, challenge themselves artistically, and grow personally.
These workshops are all inclusive. Including lodging and meals allows participants to fully immerse themselves into the art. Guests will be staying in the Live Oak building featuring ocean front rooms with private balconies. Rooms include full sized refrigerators and microwaves if guests would like to bring their own food and refreshments into the rooms. Housekeeping will stop by daily to clean the rooms and replace towels and toiletries. Springmaid will do their best to satisfy any room requests. If a participant would like to room with another workshop participant, they will receive a reduced rate.
Watermedia Workshops are perfect for any artists wishing to hone their craft. These programs are designed by professional artists who genuinely want to help up and coming artists become more refined. Anyone looking to attend these Watermedia Workshops should contact Springmaid Beach Resort and reserve their spot. The fees will cover the instruction costs, studio fees, lodging, breakfast, lunch, dinner and refreshments during break periods. This all-in-one beach vacation and art instruction is an ideal opportunity for any artist. Find more information at http://www.springmaidbeach.com/.