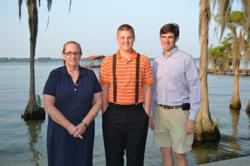 Statesville, NC (PRWEB) August 29, 2012
Carolina Farm Credit recently sponsored Cody Lutz of Catawba to attend the 2012 Cooperative Youth Leadership Conference held at the N.C. FFA Center in White Lake.
Carolina Farm Credit also provided two counselors for the week. They were: Marsha Williams, Loan Officer from Wilkesboro; and Scott Lee, Loan Officer from Statesville.
Over forty students from across North Carolina attended the week-long camp that focused on building leadership skills while learning about cooperatives. The attendees, each sponsored by a cooperative or agricultural organization, heard several distinguished speakers representing various types of cooperatives, enjoyed a series of outdoor team building activities and participated in a luau dinner and talent show. The youth also received training in the operation of cooperatives by organizing a t-shirt cooperative. They sold shirts to fellow campers and donated the proceeds to the North Carolina Cooperative Council's youth program.
Carolina Farm Credit is a farmer-owned cooperative providing short, intermediate, and long-term financing to full and part-time farmers and agricultural-related businesses and also provides financing for the construction and purchase of rural homes in 54 counties through 36 service centers. Other financial services available through Carolina Farm Credit are credit life and crop insurance, appraisal services, financial planning, and leasing programs.
Carolina Farm Credit serves over 8,900 members with loans outstanding totaling over $1.28 billion with service centers located in Albemarle, Asheboro, Asheville, Boone, Burnsville, Carthage, Concord, Ellerbe, Graham, Hendersonville, Hillsborough, Jefferson, Lenoir, Lexington, Lincolnton, Marshall, Mocksville, Monroe, Murphy, Newton, Pilot Mountain, Reidsville, Roxboro, Rural Hall, Salisbury, Shelby, Siler City, Sparta, Spindale, Statesville, Taylorsville, Wadesboro, Waynesville, Wilkesboro, Yadkinville, and Yanceyville.