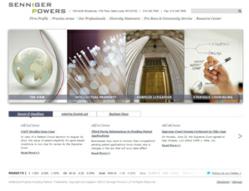 We can now more actively reach out to businesses that need our services. We anticipate this website will be a great success story for our company.
St. Louis, MO (PRWEB) August 28, 2012
Senniger Powers contacted The Net Impact to redesign its website and implement a more appealing and effective design. Senniger Powers is a national intellectual property law firm located in St. Louis. In business for 90 years, Senniger Powers secures and enforces patent, trademark and copyright rights.
The Net Impact redesigned the Senniger Powers website using custom designed Microsoft .NET pages, with The Net Impact web CMS (Content Management System) partner Auctori. Microsoft .Net technology equips developers to employ multiple programming languages at once. This creates more functionality, saves time and can increase revenue. The Net Impact also used SEO (Search Engine Optimization) techniques such as competitor analysis and keyword research to increase web traffic and adopt a more clearly defined target audience.
"With the Senniger Powers website, we applied numerous techniques to encourage more visitors and increase ROI," says Mandy Christanell, Manager of Development and Design. "Using a customized .NET design along with SEO, a mobile site design and analytics, Senniger Powers can reach its audience more efficiently and through more channels."
Google Analytics will measure statistical information on the new Senniger Powers website such as web traffic, goals and page views. This data will assist in website improvement and bringing visitors who are likely to turn into valuable clients. With the addition of a mobile site, The Net Impact brings accessibility to the Senniger Powers site users.
"Our new website design is a powerful digital solution built to attract more potential clients and help us establish a stronger online presence so they know more about what we do and how we can help," says Robert Gallin, the firm's Executive Director. "We can now more actively reach out to businesses that need our services. We anticipate this website will be a great success story for our company."
About The Net Impact®
The Net Impact, a web marketing, web development and web design firm, is a division of Unidev®. Since 1997, The Net Impact has been a web development leader empowering clients with highly creative search engine friendly websites. Professional services include search engine and Internet marketing solutions, Internet strategy development, training, seminars and web design. For more information on The Net Impact, please visit http://www.thenetimpact.com, or call (800) 301-9589.
About Senniger Powers
Senniger Powers LLP is an intellectual property law firm based in St. Louis that specializes in all facets of patents, trademarks, copyrights and related litigation. With nearly 40 intellectual property lawyers, many of whom are engineers or scientists with advanced degrees and far-reaching experience in a variety of technical fields, Senniger Powers is the largest IP firm in the state of Missouri, and one of the largest in the Midwest. The firm represents and provides insightful counsel to clients across the country, from Fortune 500 companies to small start-ups, allowing them to achieve a competitive advantage through strategic management of their IP portfolios. For more information, visit http://www.senniger.com.