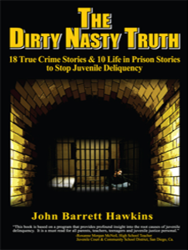 San Diego, Ca. (PRWEB) August 30, 2012
When true crime author John Barrett Hawkins was writing The Dirty Nasty Truth: 18 True Crime Stories to Stop Juvenile Delinquency, he envisioned parents, teachers and juvenile justice personnel all across America using the book as a tool to deter teens from anti-social behavior. Today, Hawkins is pursuing that lofty aspiration by offering the Kindle e-book free for five days.
"Kindle has a unique program called the KDP Select Lending Library for Amazon Prime customers, says John Barrett Hawkins."Through this program authors can offer their e-books to Amazon Prime customers free of charge for five days. I thought it would be a great way to introduce the book and get people talking about it."
The Dirty Nasty Truth uses true crime stories to provide insight into delinquent behavior. With chapters like "The Deadly Love Triangle," "Shootout On 18th St.," "Savage Sex: The Truth about Teenage Gangbanging" and "Blockbuster Bandits," readers will be captivated by the criminal underworld. They will meet fascinating villains such as "Mr. Wonderful – the pimp," "Shitty – the Coke dealer" and "The Gentleman Bank Robber." A character named "The Dillion of South Central" takes readers on a 20-page thrill ride of armed robberies, gang shootouts, jewelry store heist and more. Hawkins addresses drugs, sex, gangs, bullying, suicide and crime without talking down the kids.
The Dirty Nasty Truth: 18 True Crime Stories to Stop Juvenile Delinquency is a 247-page soft cover book available @Amazon.com. The e-book edition is available free of charge from August 28 – September 2, exclusively through the Kindle store. Visit the author's website http://www.dirtynastytruth.com to read free sample chapters.