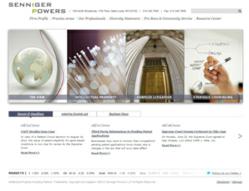 Our website now exhibits a better flow for visitors which will increase our conversions.
St. Louis, MO (PRWEB) August 28, 2012
The Senniger Powers website is now powered by Auctori, a web CMS (Content Management System) known for security, scalability and its ManyLingual℠ capabilities that make it a truly global content management system. Senniger Powers is one of the Midwest's largest intellectual property law firms. For over 90 years Senniger Powers has secured patent, trademark and copyright rights, and has managed intellectual property and complex commercial litigation. In looking to enhance the functionality of its website, Senniger Powers assigns Auctori the task of mapping out its site in a more efficient and manageable way.
"Senniger Powers came to us hoping to remodel its website, creating a more user friendly interface," says Kym Bohl, Manager of Content and Testing. "In applying Auctori to its existing site, we were able to take site content and place it into modules. This makes things much simpler and keeps modifiers from dealing with advanced coding. I believe Senniger Powers will see a big difference in its website traffic and will save time now that it has implemented an Auctori website."
With the Auctori team's suggestions, Senniger Powers decided on the most beneficial modules for its site. The content pages module allows easy page additions and edits. The Firm's job of administration comes with ease using familiar tools based on Microsoft Word. The articles module creates listings of multiple items, with options to list items individually or all on the same page. The reusable content module makes life easier in reusing headers, menus and other repetitive content, with only a couple clicks rather than repeatedly doing the same work. Senniger Powers also used the navigation and form builder modules.
"With the ability to now update and publish changes to our site within a few minutes rather than a few hours or days is a relief," says Robert Gallin, the firm's Executive Director. "Auctori redeveloped our site using modules that fit our needs here at Senniger Powers. Our website now exhibits a better flow for visitors which will increase our conversions. We have enjoyed the expertise of the Auctori team and anticipate the results of our changes with the web CMS."
About Auctori®
Auctori, a Unidev solution, is a secure, scalable, ManyLingualSM, global Web Content Management System (WCMS) built for search engine optimization. Auctori gives the user the power to add, edit, and delete pages, content and navigation elements on the user's website instantly. In addition, users have the ability to manage profiles and settings all within the content management system. For more information on Auctori or for a free demonstration, please visit http://www.auctori.com, or call (888) 629-4672.
About Senniger Powers
Senniger Powers LLP is an intellectual property law firm based in St. Louis that specializes in all facets of patents, trademarks, copyrights and related litigation. With nearly 40 intellectual property lawyers, many of whom are engineers or scientists with advanced degrees and far-reaching experience in a variety of technical fields, Senniger Powers is the largest IP firm in the state of Missouri, and one of the largest in the Midwest. The firm represents and provides insightful counsel to clients across the country, from Fortune 500 companies to small start-ups, allowing them to achieve a competitive advantage through strategic management of their IP portfolios. For more information, visit http://www.senniger.com.