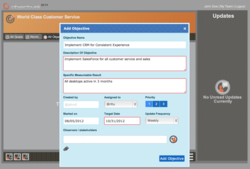 Objectives are the backbone of fulfilling our Goals and Vision.
San Francisco, CA (PRWEB) August 28, 2012
Currently people and small business write their Goals and Objectives in their notebooks, spreadsheets and post-it notes. SMART Objectives increases the likelihood of fulfilling the Goals and Objectives.
SMART is an acronym for Specific, Measurable, Aligned, Realistic and Timely.
Introducing Objectiveli, a simple web application for Goal setting and creating SMART Objectives. Objectiveli is designed to structure all Objectives as SMART Objectives. It forces the creator to add a Specific Measurable Result, Target Date, and if that Objective needs to be Assigned to someone else.
While goals set the tone for where the organization is going and what it hopes to achieve, objectives provide the how; specific directions in a "SMART" way. To decrease the frequency of creating objectives that are confusing, unfocused and don't have direct impact on the business, we recommend the use of SMART guidelines during the Goal Setting process.
1. Being Specific about your objectives helps focus business needs into a realistic picture of the desired future state. A specific objective has a much greater chance of being accomplished than a general objective.
2. Adding Measurable metrics to your objectives reduces ambiguity about the outcome of the objectives and reduces subjectivity when judging the degree to which a goal has been successfully accomplished. When you measure your progress, you stay on track, reach your target dates, and experience the exhilaration of achievement that spurs you on to continued effort required to reach your objectives.
3. Aligned objectives are objectives that add value to both the organization and the individual. It is easy to understand why aligned objectives matter and how achieving them leads to higher motivation as you understand how your work is contributing to the bigger organization.
5. Realistic objectives are more likely to be completed as planned. Checking on resources, capacity or conditions required for success in advance helps reduce barriers to accomplishment. To be realistic, an objectives must represent an objective toward which you are both willing and able to work.
6. Timeliness is a business-critical driver of success. Stating the time frame in which the objectives will be started, worked upon and accomplished drives a sense of urgency which makes the goal a reality. A objectives should be grounded within a time frame.
Objectiveli creates a collaboration space for all Stakeholders of the Objective, and the back forth comments, creates Alignment. The other key factor is that all Stakeholders have full visibility into the fulfillment process of the Objective.
Objectiveli was founded by Ritu Raj in the year 2012 to create an application to manage Goals and Objectives in real-time; Driving Outcomes instead of managing "things to-do". Ritu is a successful entrepreneur; he founded OrchestratorMail - an email based platform for coordination, Wag Hotels, the largest chain of Dog Hotels. Prior to that Ritu was a Partner at Accenture, and in early 2000 founded Avasta, one of the first Cloud Computing companies.