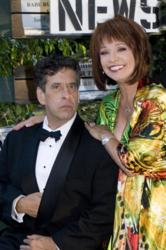 "The funds generated by Zoofari will enable us to bring the Brazilian Ocelot to the Santa Ana Zoo; it's like a dream come true." - Cathi Decker, Executive Director of FOSAZ
Santa Ana, CA (PRWEB) August 29, 2012
The Friends of Santa Ana Zoo, a non-profit organization, hosted the 20th annual Zoofari fundraising black-tie gala for over 350 guests with a 1920's theme entitled "Cat's Meow." Zoofari takes place at one of the most inspiring venues in Orange County, the Santa Ana Zoo.
Guests began the night by sipping cocktails with one special drink appropriately named, "Roarin' Rickey's Fizz" reminiscent of the Bathtub Gin tastings from the 1920's. Attendees also enjoyed inspired decorations by R.W.B. Party Rentals, a large silent auction as well as special visits with the animals. Free valet parking was sponsored by Villa Ford along with a hosted bar by FOSAZ, appetizers and then a delicious gourmet dinner prepared by Parties by Panache. An extraordinary live auction and dancing to the lively tunes of the "Soundbytes" followed.
Co-chairs and emcees for the evening were OC Register columnists Frank Mickadeit and Barbara Venezia with Glen Fladeboe as auctioneer. FOSAZ President Debbie Friedman and Executive Director Cathi Decker helped present special honors to Mark and Shio Hui Harrison; Lucille and Mike Harrison; David Exline and Amos Bracero. They were instrumental in bringing the Pavement of Progress team together by meeting with designers, contractors and architects. This project resulted in the pathways and service roads at the Santa Ana Zoo to be eco-friendly and also provide improved accessibility for disabled guests and guests requiring mobile assistance.
A special "reveal" of the Ocelot location where the exhibit "Wild Cats of El Bosque Verde" (Wild Cats of the Green Forest) will be housed was held for the press and VIP's in attendance; this was the first time the public was able to see the exhibit location before it is built.
The event netted about $80,000 this year adding to a total of almost half a million dollars to bring a pair of Brazilian Ocelots to the Zoo. Ocelots are beautiful exotic wild cats from South America, often described as miniature cheetahs. There are currently only 26 Brazilian Ocelots in the United States.
Food for the evening was appropriately named for the 1920's theme, starting with "Flappers and Flyboys" hors d'oeuvres and names such as "Sitting Pretty" Summer Fruit Salad, "Bee's Knees" Petite Filet Mignon, "Putting on the Ritz" St. Peter's Fish, "Pos-i-lute-ly (Nifty)" Roasted New Potatoes, and "Don't Know From Nothing" Grilled Vegetable Napoleons guests were delighted with the fun.
The LIVE Auction proved to be a bidding war as many amazing items were up for grabs. Items such as an Apple 64GB, iPad3 donated by Howard Hall; a dinner for eight by Chef Chet Harrison; a three night adventure to the Arizona Biltmore with a $300 Visa gas card and 4 tickets to the Phoenix Zoo, the Desert Botanical Garden and the Wildlife World Zoo & Aquarium; a Gucci handbag that was stuffed with 100 California Scratchers, a mystery amount of cash and other items; eight days and seven nights at the Cabo Azul Resort & Spa with airfare on Alaska Airlines; and an up close and personal visit with the Santa Ana Zoo's Margay cat, Buttons for six were fiercely bid on by many. The final Live Auction item was a straight donation where all were encouraged to raise their "boarding pass" to help with the airline expenses to bring the Ocelots to the Santa Ana Zoo. Money raised will help to fund the travel costs as well as the initial medical expenses of the two Ocelots.
Zoofari is sponsored by FOSAZ, a non-profit organization which has helped support and improve the Zoo for over 31 years. The Santa Ana Zoo is Orange County's only AZA accredited Zoo and is recognized as signifying excellence and commitment to animal care and conservation. The Santa Ana Zoo provides a place to have fun, to learn, and can be enjoyed by people of all ages. For more information, please call (714) 953-8555 x10 or visit http://www.santaanazoo.org.