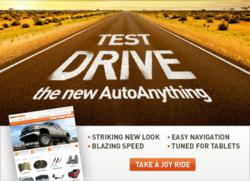 Our aim is to revolutionize the automotive accessories industry the way Amazon did with books and Zappos did with shoes.
San Diego, CA (PRWEB) August 29, 2012
Pulling further away from their competition, top-ranked automotive accessories & performance parts etailer AutoAnything has gone live with a new website and a new look. Built on the latest and most advanced technologies, the new site sets the stage for the present and future success of the ecommerce innovator. And the decidedly modern look highlights the enhanced functionality.
AutoAnything already leads the automotive accessories sector, thanks to mastering key components in their business model. Top SEO rankings, award-winning customer service and the delivery of thousands of on-time orders every day keep them at the front of the pack. Now, with a heavy investment in architecture, the company is banking on a mobile-enhanced application, blazing site speed, and rich, relevant content to cement their position as the go-to site for auto accessory shoppers.
"From the beginning, our goal for the new site was to give our customers the fastest, most user-friendly and visually stunning shopping experience possible," says Trevor Klein, Co-President. "Whether shopping from a PC, smartphone or tablet, visitors notice a vast difference between our site and what they are accustomed to seeing on the web, especially in the automotive sector."
When designing the new infrastructure, AutoAnything's engineering team ignored what other automotive sites were doing, and instead focused on the strategies used by the biggest players in ecommerce. That meant scrapping everything and building from the ground up. The new architecture harnesses the latest front-end technologies, and positions AutoAnything as one of the first companies in ecommerce to fully leverage HTML5 technology.
"For the new site, customer experience was job number one," says CTO Parag Patel. "For the most part, customers are not concerned with technical specifics like HTML5 and .NET 4.0. But, they are concerned with speed, shopping from their mobile device, easy navigation and rich content." Commending his team, Patel continues, "It was a big job to plan, test and implement such a cutting-edge design, but we're proud to say that the new site is delivering on all fronts."
To complement the new technology, AutoAnything has revamped their look and branding. All creative, from site layout and email campaigns to print ads and their semi-annual catalog, has been completely redone. Under the guidance of a newly hired Creative Director, AutoAnything is positioning itself as the most recognized and trusted brand in the automotive sector. However, this is only the beginning as the company seeks recognition on a much larger playing field.
"Our aim is to revolutionize the automotive accessories industry the way Amazon did with books and Zappos did with shoes. Those brands are recognized for so much more than what they sell, they define ecommerce. That's where we're heading with auto accessories," says Klein. "Setting ourselves apart and giving customers exactly what they want requires a heavy investment in people and technology. But it really boils down to an investment in the customer, and in the end, that's who decides your success."
AutoAnything was founded in 1979 as Blue Ribbon Motoring, a manufacturer of sheepskin seat covers and custom carpet floor mats. In 1999, the company took a new direction and went online as a retailer of automotive accessories. Today, AutoAnything.com is #157 in the Internet Retail Top 200 Guide of ecommerce companies.
For a complimentary catalog or to order any of AutoAnything's exciting products, call (800) 874-8888. International: (858) 569-8111. Fax: (858) 569-8503. Internet: http://www.autoanything.com, Email: media(at)autoanything(dot)com.
Contact Information:
Note to Editors: Parag Patel and Trevor Klein are available for interviews. Product and website demos can be arranged.
Contact: Michael Kirby, Senior Marketing Editor, 1-858-609-7721 or mkirby(at)autoanything(dot)com