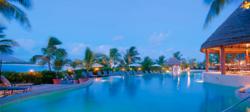 Great Exuma, Bahamas (PRWEB) August 29, 2012
Once the vows have been exchanged and the wedding bouquet tossed, newlyweds fly off in the direction of their much anticipated honeymoon, which is often a resort in The Bahamas. For those seeking a warm weather, tropical island getaway where every day is a new journey of discovery, Grand Isle Resort & Spa on the out island of Great Exuma is introducing three- and five-night packages that offer the perfect blend of a romantic setting in the 'Gem of the Bahamas' and experiences to last a lifetime.
For couples who would like to visualize the beauty of the island's pristine beaches, multi-hued turquoise seas, unique attractions, and authentic local lifestyle, a new Grand Isle Digital Brochure is now ready with a video show, 360o tours of the villas and resort grounds, and lifestyle photos. Guests will get a vivid picture of the Grand Isle experience and understand how the resort earned its place in the top 25 TripAdvisor Travelers' Choice Award for luxurious Caribbean retreats.
Now, for the first time, honeymooners can also turn to the resort for assistance with airfare arrangements at the same time they book their reservations. While Great Exuma may not be as familiar as some of the other islands in the Bahamas, there are several ways to get there. Flights to Great Exuma on Silver Airways are available from Ft. Lauderdale, Florida. American Eagle flies there from Miami, Delta from Atlanta, and Air Canada from Toronto, Canada. Many air carriers have direct flights to Nassau International Airport, which is a very short distance to Great Exuma, where customs and immigration is a quick process. Passports are necessary to enter The Bahamas, and require an expiration date of more than six months. Bookings can be made for both the resort and air transportation by calling 1.866.380.5213 (US toll-free) or +214.393.2841 (US direct).
The three-night honeymoon package starts at $1,929 (prices vary by season) and requires Promotion Code H3. The five-night stay can be reserved from $2,979 using Promotion Code H5. To make reservations, call Grand Isle Reservations (aforementioned numbers) or book online at http://www.grandisleresort.com. This special offer includes a beautifully furnished one-bedroom ocean front villa, a magnum of champagne upon arrival, dining credits for meals at the newly redesigned restaurant offering Caribbean fare, a sightseeing boat excursion with stops for exploring the Exuma Cays, and time for relaxing at the SeaStar Spa with 25% off on an inspiring range of regional treatments and services. To make certain the newlyweds make the most of every minute at Grand Isle until they return to celebrate an anniversary, they can also enjoy late check-out before leaving for the airport.
Also available to guests is an infinity-edge pool overlooking the sea, a well-equipped fitness center, and a white sand beach that add to the Caribbean flavor at Grand Isle, where palm trees sway in the evening breeze and clusters of bougainvillea fill the air with their tropical aroma. At night, bonfires on the sand make for a special evening to stargaze with telescopes, while reggae music fills the air to bring activity filled days to a relaxing end. For sports lovers, Grand Isle offers complimentary use of snorkeling gear, kayaks, boogie boards, and other equipment for recreation. Kite flying, board games, and even a movie library round out the many ways for honeymooners, families and other guests to stay active every day.
About Grand Isle Resort & Spa
Located on Emerald Bay in Great Exuma, a magnificent island located in The Bahamas, Grand Isle Resort & Spa is a stunning oceanfront villa resort. The exclusive gated community consists of 78 luxuriously appointed 1- to 4-bedroom villas, decorated in color palettes inspired by the sea, lush landscape and tropical ambience. The villas range from 1,250 sq. ft. to over 5,000 sq. ft. and offer a fully equipped kitchen, spacious living area, high-end amenities, and extraordinary views. Getting around the resort is made easy with a personal golf cart in every villa garage. Complimentary high-speed wireless internet is also available.
Grand Isle is one of the finest resorts in the Caribbean and is the perfect location for a Bahamas Out Islands vacation. Ideally suited for family holidays, romantic getaways, destination weddings and honeymoons, or for simply enjoying the beach, a luxury villa vacation at Grand Isle is an experience never to be forgotten.
Contact Reservations at 866.380.5213 (US Toll-free), 214.393.2841 (US Direct) or reservations(at)grandisleresort(dot)com. Villas are for sale or rent. Visit http://www.GrandIsleResort.com for more information.
DCM Hospitality, LLC (boilerplate)
DCM Hospitality (DCM) offers a wealth of consulting, management and reservations services designed to suit the specific needs of luxury resort communities. DCM personifies stellar delivery and offers Owner, Developer and Hotel Program benefits that drive success. Established in 2005, DCM offers services that address every stage of resort community management. We are second to none when it comes to providing the ultimate luxury living experience within Private Residence Clubs and Boutique Hotels in popular vacation destinations in the U.S., Bahamas and Europe. Call +972.851.0680 (US Direct) or e-mail info@dcmhospitality.com . Visit http://www.dcmhospitality.com or http://www.dcmhospitalityrentals.com for more information. You, too, can experience the difference.
*Please note: Grand Isle Resort & Spa will be closed for restaurant expansion and scheduled maintenance from September 3-October 27, 2012. Reservations will be accepted for future stays during that time.