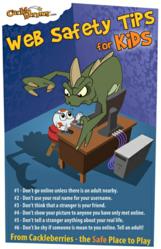 We strive to provide online education that every parent can trust.
Burnaby, B.C. (PRWEB) August 30, 2012
In response to problems that Habbo Hotel is having with pedophiles interacting with children in online chats, Cackleberries.com—a one-hundred percent Internet protected online game world—has released an Internet safety poster to help parents and teachers talk to young children about cyber bullying and Internet predators.
The poster—designed for primary school classrooms—has six tips for children on how to stay safe on the Web. These include, "Don't go online unless there is an adult nearby," "Don't use your real name for your username," "Don't think a stranger is your friend," and "Don't be shy if someone is mean to you online. Tell an adult!" The artwork features the story world's only potentially dangerous wild animal, Skulk," coming out of a computer and looming over Shylee, one of the younger characters.
When asked about stranger danger on the Internet, a spokesperson for the company's programming crew said, "The only way to guarantee safety online for children is to keep them off the World Wide Web. Every point of access via the Web introduces vulnerabilities. The only way to guarantee no vulnerability is to eliminate all access."
While Cackleberries' application is Internet enabled and self-updating, access is restricted to private servers and private content. Children are never presented with links they can click on to open random web pages in a standard browser. There is no player-to-player contact in the game, so no predator can connect with children in the game. The application is launched through a Cackleberries Desktop Safety Icon © so players cannot leave the game world and surf or chat unsupervised.
Cackleberries' CEO, Eronne Foster, said, "Online education is the future of education. Keeping children safe online as they learn is paramount, which is why both safety and education have been absolute priorities at Cackleberries. We strive to provide online education that every parent can trust."
To get a printable copy of Cackleberries Internet safety poster, go to http://cackleberries.com/blog/.
Cackleberries is a children's edutainment (entertainment and education) company offering "online education you can trust" through animation, toys, games, music and more. Most importantly Cackleberries.com introduces young children, three to seven, to online education with a dedication to keeping them safe. Cackleberries protects children from the internet with the latest technology, provides family-friendly content, and never advertises to children. The living virtual world of Oville is a place for children to learn and play in a guaranteed safe environment.