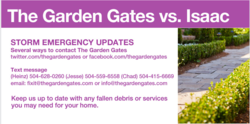 Sometimes Social Media is a valuable asset which is over looked for small niche retailer. Chad E. Harris
Metairie, LA (PRWEB) August 29, 2012
One lesson learned is there is nothing like being overly prepared. "Seven years ago Katrina came out of what we thought was nowhere, we had no idea what to expect. It is hard to fathom what kind of devastation can occur to your business if you aren't expecting it. This time we are prepared, from boarding up windows to making sure our merchandise is more secured," says Chad Harris, one of the owners of The Garden Gates.
"When Katrina hit we had no plan of communication between management and staff. This time cell phones have been exchanged, emails, and most importantly we know the numbers to text each other. Often when power and cell communication goes down texts are the only way to communicate," says Harris. Text messaging is also playing a role the inevitable aftermath of the hurricane. "We have utilized social media and targeted email lists to inform both new and current landscaping customers to text us with their concerns about garden clean ups and the maintenance that occurs with any tropical storm or hurricane. Everyone knows my cell phone number as well as Heinz and Jesse's, the guys that will be leading the clean up crews."
About The Garden Gates
Founded by Jacqueline Elizabeth Kendall-Harris and Chad Harris in 1999. Jacqueline plays an instrumental role in product development, interior design and the developing the core principles of The Garden Gates lifestyle. Chad plays an instrumental role in the creativity of the brand, marketing and technology of the business.