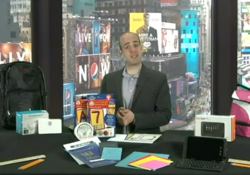 Washington, DC (PRWEB) August 28, 2012
NewsWatch, a national television show, recently aired a segment on new and innovative back to school products by Idolian, HyGloss, and G-Technology.  Scott Steinberg, author of the "Modern Parents Guide" and nationally recognized tech guru, joined NewsWatch to highlight the products.
Watch Scott Steinberg Highlight Back To School Products
The first product, the IdolPad Plus, is a new tablet by Idolian.  The IdolPad Plus is filled with new features such as an Android 4.0 operating system and a 7-inch touch screen. It also offers a Cortex A8 1 GHz CPU processor, 512MB RAM and 4GB storage.  Idolian also offers a full keyboard to connect to the IdolPad PLUS through a USB cable, turning the tablet into a mini netbook.  The IdolPad Plus is available on Amazon, Sears and buy.com.  Visit Idolian.com for more information or to purchase your product today. 
Hygloss, a company specializing in learning products for younger children, recently introduced the Dazzlin' Dough Language and Numeracy Kits - a hands-on learning kit for upper and lower-case letters and number recognition.  For slightly older children, the Passport Family Record book allows kids to trace their family history by recording family stories and memorabilia.  Hygloss also offers hands-on activity books such as My Yearbook which allows young students to create their own personal book of memories and the Calendar Book which helps teach the concept of days, weeks and months.  Visit the Hygloss website at Hygloss.com for more information.
With students going back to school, one issue many of them will have is too much digital content and not enough space on their iPads and iPhones to store it.  G-Technology recently released the G-Connect wireless storage device with 500GB of space to help store digital content. The G-Connect creates its own WiFi network which users connect to and then wirelessly stream content to up to five devices simultaneously.   For more information, check out g-technology.com
NewsWatch is a weekly 30-minute consumer oriented television show that airs nationwide. NewsWatch regularly features top travel destinations, health tips, technology products, medical breakthroughs and entertainment news on the show. The show airs in 180 markets nationwide as well as all of the top 20 broadcast markets in the country, and is the preferred choice for Satellite Media Tour and Video News Release Distribution. For more information, head to newswatchtv.com