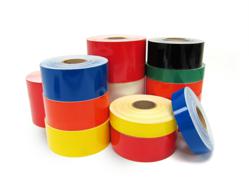 "I tried the labels for marking our pipes throughout the facility and I can't believe how well they hold up over paint. I will never go back to labeling with paint."
Lake Oswego, OR (PRWEB) August 30, 2012
Thriving industrial and manufacturing facilities know that safety is the number one priority to keep the workplace a safe environment. LabelTac.com is a leading supplier of safety products including pipe marking labels. The label maker is a printing machine that will print out any type of labels that is needed to comply with OSHA and ANSI safety standards. The high quality pipe marking labels and label makers are perfect for 5s and lean safety programs. LabelTac.com products are known in the industry for their professional results, easy to use and easy on the budget.
LabelTac 4 labels come in a variety of sizes and colors. The labels are chemical and UV resistant and will withstand any type of environment no matter how tough. They will not fade, scratch, smear or smudge. The outdoor rating is 5 years. Paint does not even compare to the quality you get in using labels for all your markings on chemical containers or pipes. Plant manager, Mark Wilson, commented "I tried the labels for marking our pipes throughout the facility and I can't believe how well they hold up over paint. I will never go back to labeling with paint."
LabelTac.com also offers the LabelTac 4 Industrial Printer that out surpasses any other type of printer. Create custom professional labels for any type of application. It comes with everything you need to get started including thousands of pre-made templates and symbols. It has a build in Ethernet and works with programs such as Microsoft Word, Excel, and Open Office to name a few. Or the bartender light software is included if one of the programs does not exist.
Professional results are what you get when it comes to LabelTac.com products. In addition, customer support is offered at no cost for life. Contact http://www.labeltac.com for more information or call toll-free (866)777-1360 for all your safety needs.