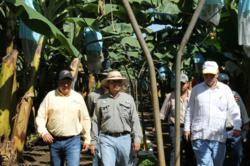 It is important for companies like Banasa, to consolidate the perception of the agribusiness as a major player in the areas of influence, making this type of activities and bringing about partnerships that will lead to the development of the communities
Guatemala (PRWEB) August 29, 2012
The Guatemalan Minister of Agriculture, Livestock and Food, Efrain Medina, along with the director of the Independent Banana Producers Association -APIB- (for its initials in Spanish), visited last week Banasa's operations in the southwest of the country.
"The visit was carried out to facilitate a space for dialog with government authorities, to reiterate our commitment as a competitive, innovative and socially responsible agribusiness in farming, labor, environmental and commercial practices", commented Ana Clarisa Villacorta, director of APIB.
Bernardo Roehrs, Corporate Director of Banasa, said: "It is important for companies like Banasa, to consolidate the perception of the agribusiness as a major player in the areas of influence, making this type of activities and bringing about partnerships that will lead to the development of the communities".
The visit consisted of a tour of the field and the packing plant to get acquainted with the process of the banana crop. The community of Chiquirines, in the municipality of Ocos, San Marcos, was also visited to see the social responsibility projects that the company is carrying out. There was a meeting with the leaders of the Asociación del Trifinio Suroccidente, who proposed to the Minister, the need to promote agriculture development projects and strengthen those in existence.
About Banasa:
Banasa is one of the largest agribusiness in Guatemala, where it has over 3,500 direct and 10,000 indirect employees who contribute every day to the socioeconomic development of the country and the region. Read more: http://www.banasa.net/eng/index.php