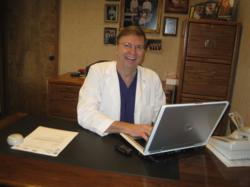 Houma, LA (PRWEB) August 28, 2012
Murray L. Rabalais, P.D., D.D.S., understands that the root cause of teeth grinding, or Bruxism, is still not known. However, it is known that when anxiety and stress increase, people with a tendency toward grinding tend to grind more often and more severely. Other contributing factors include missing teeth or an abnormal bite. Grinding teeth can result in loose, worn, fractured and even lost teeth. In addition, there can be problems with hearing loss, jaw pain and TMJ. Dr. Rabalais, a periodontist, can help patients who have this problem.
Many people who grind their teeth have no idea they are doing it, because it often happens while they sleep. They may be very surprised when their dentist mentions that their teeth appear to be suffering some wear from grinding. While it is quite common for grinding and clenching to occur while sleeping, it can also happen while a person is awake. A periodontist such as Dr. Rabalais can help patients stop grinding their teeth.
Dr. Rabalais can fit patients with a mouth guard to be used at night. This can protect the teeth from getting worn by grinding while a patient is sleeping. In addition, the triggers to grinding and clenching need to be addressed. Patients should find ways to relieve stress in their lives to help reduce the incidence of this problem.
Some things that can help cut down the amount of grinding one does include cutting back on foods that contain caffeine and avoiding alcohol. Chewing things that are not food can condition the muscles of the jaw to remain clenched so this habit should be stopped. Patients should also try to be more aware of whether or not they are clenching or grinding teeth when they are awake and should consciously relax their mouth when they notice the problem. For more information on jaw pain and bruxism, visit louisiana-periodontist.com.
Progressive Periodontics is a periodontal practice offering patients personalized dental care for Houma and New Iberia, Louisiana since 1980. Dr. Murray L. Rabalais graduated from Northeast Louisiana State College with a Bachelor of Science degree in Pharmacy. He received his Doctor of Dental Surgery degree from Loyola University in 1970. After serving in the United States Army he entered the LSU School of Dentistry for post-graduate studies in Periodontics and received his Certificate in Periodontics in 1980. Dr. Rabalais is part of one percent of dental professionals providing the most recent FDA cleared laser procedure for gum disease and periodontal treatment. To learn more about Progressive Periodontics and their dental services visit their website at http://www.louisiana-periodontist.com or call either office:
Houma: 985-231-5333
New Iberia: 337-376-0767