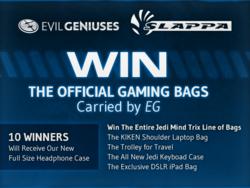 Charlotte, NC (PRWEB) August 29, 2012
SLAPPA, LLC maker of professional-quality cases, bags and backpacks designed specifically for laptop computers, cameras, and gaming gear announced today that it has launched a sweepstakes in partnership with Evil Geniuses. Running through September 6th, 2012 the sweepstakes is a celebration of the MLG Games in Raleigh North Carolina and the Dota2 games, with finals August 31st through September 2nd in Seattle, Washington.
Founded in 1999, Evil Geniuses (Team EG) have grown to become a leading new media agency which specializes in contracting pro gamers, executing online and offline broadcasts, and developing unique marketing initiatives aimed at attracting and influencing gamers worldwide. With support from popular brands such as Intel, Monster Energy, Kingston and SLAPPA, EG are North America's premier professional gaming team and a world leader in e-sports.
This week, the top sixteen Dota2 teams in the world will compete for the 2012 Championship Title. Three days of double-elimination bracket gameplay will lead to Sunday's best-of-five Grand Finals where over 1.6 million dollars in prizes will be awarded. This will all take place in Seattle's famed Benaroya Hall where spectators will be on hand for a suspense filled competition.
"This sweepstakes is a fun way to engage fans of Dota2 and to help communicate the growing sport. With a one million dollar purse going to the winner of Dota2 on Sunday, it's pretty thrilling" said Cris Bremner SLAPPA's Marketing Director.
Winners of the SLAPPA Sweepstakes may not be winning a million dollars, but they can win the entire line of Jedi Mind Trix products including the M.A.S.K. backpack and KIKEN shoulder bag both of which a Bottomless pit trolley re designed for laptops up to 18" in size, the all new DSLR iPad bag, a full size Jedi keyboard case and the new and the Bottomless pit trolley that makes for a perfect LAN bag on wheels.
To enter visit http://bit.ly/egmlg2012 or Send an email to customer.service @slappa.com and provide your email address or send a postcard to SLAPPA Distribution, 6012 Old Pineville Road, Charlotte, NC 28217.
ABOUT SLAPPA
Established in 2002, SLAPPA Distribution, LLC engineers, manufactures and distributes innovative products, offering the highest quality backpacks, laptop bags, sleeves and specialty cases for CD and DVD collectors, DJ's, Pro Audio users, Gamers and photographers. SLAPPA has earned a reputation for offering dependable, quality products with unparalleled performance. The company has been recognized for its excellence by leading consumer publications and sites, both in the U.S. and abroad. SLAPPA products are currently available in 14 countries around the world. SLAPPA, LLC continues to actively expand its domestic and international presence with new and innovative products.
SLAPPA is also dedicated to providing professional and amateur gamers with bags and accessories that provide extreme protection for gear while in transit and at tournaments. SLAPPA is proud to sponsor three world class professional Major League Gaming (MLG) teams; Evil Geniuses-EG, FNATIC and SK Gaming. In addition, SLAPPA sponsors LANs (Local Area Networks) in the U.S. and Canada supporting all gamers in their pursuit to perfect their game and grow the sport.
For more information on SLAPPA products including purchases, distribution and our affiliate program please visit http://www.slappa.com