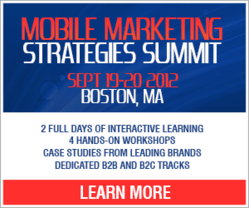 I am walking away equipped with best practices, new ideas and a bigger network of passionate mobile marketers. - Sheila Collins, Senior Manager Digital Commerce, American Express
Boston, MA (PRWEB) August 28, 2012
Just three weeks away, GSMI is excited to be hosting it's fourth installment of the Mobile Marketing Strategies Summit (MMSS) at the Hilton Boston Back Bay in Boston, MA. The Summit includes dedicated B2B and B2C tracks, providing attendees with presentations and case studies of proven success by speakers from organizations like ESPN, JetBlue Airways, Travelocity, PayPal, Nielsen, Cars.com, Tasti D-Lite, American Express, American Cancer Society, Webtrends, Ogilvy & Mather, IAB and many others.
Some of the Summit highlights include:

Identify how mobile can impact an organization's marketing plan
Discover growing mobile trends for 2012 and beyond
Maximize an organization's mobile efforts
Integrate social and traditional marketing into a mobile strategy
Measure and understand mobile ROI
Craft and execute innovative apps
Increase customer satisfaction and maintain engagement
MMSS presents an amazing opportunity for attendees across industries to connect and network. Come join other attendees from brands such as Facebook, Hilton, Office Depot, Staples, Oakley, Capital One, T-Mobile, Vanguard and many others.
With education as a top priority, MMSS also provides four comprehensive pre-summit workshops. GSMI has worked diligently to bring attendees the most knowledgable and experienced thought leaders in the field to facilitate 2 hour interactive and hands-on sessions. These workshops provide attendees with the opportunity to work closely with their colleagues and other professionals to build their own strategies, solve problems and bring solid and actionable information back to the office.
Available pre-summit workshops include:
Mobile Marketing 3 T's of Success: Mobile Marketing Tips, Trends and Tactics
Mobile Marketing Fundamentals: Creating the Right Strategy for Your Organization
Non-Profit Mobile Marketing: Building a Successful Mobile Program
Is a Mobile App Right for Your Company?
There are still three weeks to register. Make sure to secure a seat to one of the most comprehensive mobile marketing events of 2012!
About Global Strategic Management Institute:
GSMI is a leader in the industry of executive education, creating conferences, summits, workshops and training sessions that combine rich learning environments with the opportunity to network with today's most relevant thought- leaders, speakers and practitioners. GSMI's annual events have reached 70% of the Fortune 500 companies, in over 30 countries, and cover topics that today's leaders find most challenging and inspiring. More information about Global Strategic Management Institute and the Mobile Marketing Strategies Summit, Boston can be found at: http://www.gsmiweb.com