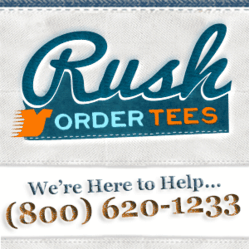 custom ship date helps customers save money by not paying for more rush than they need
Philadelphia, PA (PRWEB) August 29, 2012
Fast t-shirt printing has been a main staple of Rush Order Tees' business model for over ten years. Express custom tees is the central mission of the business and was the principal reason Printfly launched the Rush Order Tees division originally over a decade ago.
"Between our free standard shipping nationwide and our preferred rates as a high volume shipper with UPS, our customers see considerable savings. The ability to select a daily custom ship date helps customers save money by not paying for more rush than they need." explained Ron Reed, VP of Marketing and eCommerce.
"With other custom t-shirt printers, online consumers have very limited options - usually just between A and B: one week or two. If you need custom t-shirts fast, then you have to pay for their 'express' option which is often still a week out or wait two weeks for their standard shipping. If you need your shirts in less than a week, well you're often out of luck or will have to jump to their express option which may still be 5-days out. With this new policy, our customers can choose any timeframe from next day to nine days out. Customers who opt for free shipping also benefit from this program as our standard shipping is now just 10-days, not 2 weeks."
Reed attributed these benefits to their efficient production methods, high volumes and a long-standing successful relationship with their US shipping partner - UPS.
"We've made substantial investments in technology including IT and communications based advancements as well as equipment and even personnel."
Reed credited their IT and development team with the creation of a CRM that supports faster response times that push customers' shirt designs into production quickly as well as advances in screen printing equipment that lends to higher volume printers like Rush Order Tees. An improved online design studio adds to efficiency by allowing customers to login and design t-shirts online, save their designs, come back and tweak them as needed before committing the order.
Reed closed noting, "Our team is an extremely experienced group of professional printers and designers so they absolutely get the most from every investment the company makes in them - as our number one asset (human) - and in new systems, technology and equipment."
About Rush Order Tees and Printfly
Rush Order Tees has been in business for over 10 years.
Since it's founding Rush Order Tees has expanded its product offering beyond custom printed shirts to include a large sports, academic, industrial and business offerings including company polos, custom business shirts, custom team jerseys, custom printed hats, custom printed sweats, custom college shirts, school jerseys, custom totes, custom aprons, and more.
Rush Order Tees acquired a 15,000 SF facility in Philadelphia, PA which they equipped with over 20 of the highest quality screen printers, digital printers, exposure units, heaters, and more. Offering free nationwide shipping, an industry-leading low price guarantee, excellent service, value and quality has yielded overwhelmingly positive online rating and reviews across leading sites like Google, Superpages, YP.com, and the Better Business Bureau where they hold a certified A+ BBB Rating.
Built on repeat business and referrals from satisfied customers, Rush Order Tees has grown to be a major leader in the custom shirt printing industry.
Contact Rush Order Tees @ 1 (800) 620-1233