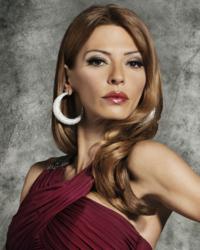 Drita fans will now be MHP fans for life.
Fairfield, NJ (PRWEB) August 28, 2012
Drita D'Avanzo, the outspoken mother of two is a total fitness fanatic making her the perfect fit for the MHP performance nutrition brand.
"Coming from a family of professional athletes, nutrition has always been an important part of my life," said Drita. "Teaming up with one of the staples in the supplement world in MHP is a direct extension of who I am."
"We couldn't be happier about Drita teaming up with MHP to promote 8-Hour Alert and Fit & Lean Power Pak Pudding," said MHP President Gerard Dente. "She is a prime example of someone who works hard at her career, fitness regimen and raising her children."
The new partnership will also support Drita's charity organization Single But Not Alone, which helps provide funding for single-parent households. MHP will donate a portion of their 8-Hour Alert sales to the Single But Not Alone Foundation. To kick off their fundraising for the charity, MHP presented Drita with a check for $5,000 this week.
"I am thrilled that MHP is supporting single parents through the Single But Not Alone Foundation," said Drita. "As a single mother of two, I understand the financial difficulties of raising a family on your own. The toughest part of being a single parent is finding the energy to be a good parent after a long day at work. The synergy between 8-Hour Alert and my charity couldn't be a better fit."
8-Hour Alert is an exciting new energy product using a Bi-Layer Tablet to provide both immediate and long-term energy and alertness at less than $1 per dose. Fit & Lean Power Pak Pudding is a delicious high protein snack that provides 15 grams of protein with just 100 calories and contains no sugar, lactose, gluten or trans-fats.
For more information on Drita D'Avanzo, her Single But Not Alone charity, 8-Hour Alert or Fit & Lean Power Pak Pudding, visit MHPSTRONG.com. 8-Hour Alert is now available at Rite Aid and GNC stores. Fit & Lean Power Pak Pudding is coming soon to GNC stores.