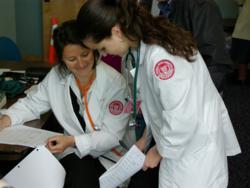 "The health care nurses provide is less costly and leads to better patient outcomes and higher patient satisfaction," says Linfield College nursing Professor Laura Rodgers.
McMinnville, Ore. (PRWEB) August 31, 2012
More than 75,000 qualified nursing school applicants may be turned away this fall because nursing schools can't fill vacant faculty positions, says Laura Rodgers, a nursing professor at Linfield College in Oregon.
Health care needs for baby boomers are rising, but the nation is seeing what may be the most severe shortage of nurse educators in its history according to the American Association of Colleges of Nursing. Because of the dearth of faculty, 75,587 qualified student applicants were turned away from baccalaureate and graduate nursing programs in 2011.
"The struggle to fill faculty positions is going on across the nation," said Rodgers. "Many schools won't know until a week before classes whether they will have enough faculty."
The faculty shortage is compounded by the fact that hundreds of hospitals and community health care sites now require nurses to have a bachelor's or even a graduate degree, leading to a surge in nursing school enrollment applications.
Less than one percent of all nurses have a doctoral degree, with good reason. After taking on graduate school debt, nursing professors with doctoral degrees work longer hours and typically make less money than nurses with bachelor's degrees.
"Nurse educators enter the teaching profession later in life and retire earlier, leaving a small cohort of graying professors to educate new nurses," Rodgers said. "Many are slated to retire soon."
We can address this looming crisis if we act now, she said. "If we increase federal and state funding to support nursing faculty development and retention programs, we could entice professional nurses, especially younger nurses, to enter the teaching profession.
"The health care nurses provide is less costly and leads to better patient outcomes, lower mortality rates and higher patient satisfaction," Rodgers said. "We have to change the way we value nurse educators."
Linfield College is one of the few schools in the Pacific Northwest dedicated exclusively to undergraduate education, offering degrees in arts, sciences and professional programs. The small college was named one of the nation's top picks for high school counselors across the U.S. and has been nationally praised for combining affordability and excellence. Visit the Linfield-Good Samaritan School of Nursing at Linfield College to learn more.