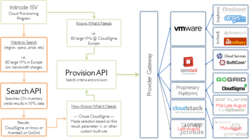 The Search API acts as a lasso for the most efficient cloud procurement [ ... ]
Bellevue, Washington - August 27th 2012 (PRWEB) August 28, 2012
With 300% anticipated growth in the federated cloud market of Europe alone through 2014, ComputeNext is poised to help make decision-makers lives a lot easier when it comes time to find, procure, and utilize a cloud provider. Whether developers and CIOs seek to source cloud resources in Europe, the U.S., or a remote corner where they might need to deliver a high performance SLA for a customer set – they can search and discover the infrastructure they need via the marketplace's easy to use e-commerce platform, dashboard, and workload editor or the newly published multi-cloud Search and Discovery APIs.
The multi-cloud search and discover APIs were designed with flexibility in mind and actually offer two unique ways to get the necessary scalable resources for a project. With an SME or ISV's cloud provisioning program it's possible to define the required number and size of resources necessary by specifying criteria like instance size, number of cores, and region from a specific cloud provider such as CloudSigma or HP Cloud Services.
The ground-breaking functionality comes from the Search API. The Search API acts as a lasso for the most efficient cloud resources available for deployment. It's entirely possible that an organization's requirements may not be fully fleshed out, and that some key decision influencing data points are missing before going deploying a public cloud. The ability to Search and Discover enables rules to be written to ensure that for a limited data set – the most efficient results are chosen for a cloud deployment.
A sample ISV in Europe faces data privacy requirements and must host customer information records in the U.K. but isn't sure which cloud provider has a similar price and billing structure to their current U.S. provider. With the ComputeNext API it is now possible to search an aggregation of cloud computing to find a certain number of VMs with a specific image and sort based on lowest price, data center location, SLA, or any other custom built rule. When asked for a quote, CTO Munirathnam Srikanth had this to say, "Accessing a growing inventory of cloud resources can ensure efficient cloud procurement by being aware and choosing from all the options on the table, via dashboard or now systematically via API."
ComputeNext, who serve to deliver developers, ISVs, and SME CIOs, choice in cloud service providers and eliminate lock-in, is a Bellevue, WA based technology start-up. With the belief that a handful of IaaS providers cannot satisfy the world's computing demands, they have built an exchange for cloud providers worldwide to list and offer cloud computing services. As a cloud service broker, they deliver a transparent marketplace experience with patented search and discovery technology to promote efficient computing.