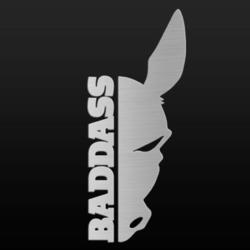 Are you ready to be a BADDASS!?
(PRWEB) August 28, 2012
BADDASS Nutrition, a premium dietary and nutritional supplement provider, has recently launched into nutrition powerhouse GNC. Retail stores unveiled the edgy line August 1, 2012 in select GNC stores nationwide. BADDASS Nutrition calls their debut line, "The Alpha Line," an assortment of six staple supplements for each stage of an effective workout. The line includes "BADDASS Stack" a Pre and Post workout in a single container, the first of its kind on the market; "BADDASS Surge" featuring the cleanest form of hydrolyzed whey protein; "BADDASS Shred" a thermogenous combination of stimulants for fat burning and muscle toning; "BADDASS Burn" a thermogenic that is stim-free and contains innovative Beta Alanine and Magnolia Bark; "BADDASS Drive" a premium Creatine formulated in convenient capsules for immediate consumption; and "BADDASS Ignite" a cutting-edge testosterone booster containing Velvet Deer Antler and Tribulus Terrestris.
"The line is completely unique, and unlike anything GNC has ever carried in the past," President and CEO Kevin Wright says of the line. "We want to make it clear to customers that we don't put useless fillers or ingredients in our products. They are clean and effective. There is no BS in BADDASS." Touting quality and innovative formulas, the brand also promotes a lifestyle congruent to the formulas. The tagline for the brand is, "You Are BADDASS," a phrase that encourages self-expression and inner strength.
Although several major nutrition retailers courted the line, CEO Kevin Wright says, "GNC was the only viable partnership for a brand like this one. We needed a strong retail presence, and they are definitely the best in the industry." The BADDASS brand also features an apparel line, which will be sold exclusively online for now as well as an expanding product line expected at the beginning of 2013.
More information about the brand can be found at http://www.baddass.com or on Facebook (BADDASS Nutrition) or Twitter (@BaddassBrand). Supplements are now available in GNC stores nationwide.