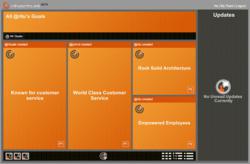 I think goals should never be easy, they should force you to work, even if they are uncomfortable at the time.

- Michael Phelps
San Francisco, CA (PRWEB) August 30, 2012
Objectiveli has a simple mission increase the number of people fulfilling their Goals. Objectiveli has created a very simple app that takes minutes for Goal setting. After setting the Goals it allows for inviting observers or stakeholders. Stakeholders provide feedback when necessary, hold the Goal setter accountable and are a great structure for people to fulfill their goals.
Objectiveli also sends reminders on pre-set frequency to update the Objectives, and gives that visibility to all the observers and stakeholders. Objectiveli keeps all stakeholders and teams focused on the Goals by providing unified visibility at all times. Objectiveli gives a unified view of the Goalss and Objectives and track the progress of all Objectives, eliminating the need for email, spreadsheets and post-it notes.
Objectiveli Drives Outcomes that matter, fulfilling your Goals and Objectives, instead of losing focus; managing day-to-day emergencies and "things to do".
"Whatever your goals in life you need a well thought out plan to achieve those goals.", Ritu Raj, the CEO of Objectiveli says, "Going about blindly thinking you will one day attain those goals usually means you will never reach those goals. In fact, many people never really reach the main goals that they have set for their life. No matter if the goal is related to health or not such as stopping smoking or losing weight. "
The Ford Foundation and Harvard University recently published research on how people attain goals and the likelihood of them completing them. The results are rather staggering. They found that only ten percent of the population even has goals that they want to reach in life, at least well defined ones. About 67% have goals and a general idea about those goals but don't really have a specific list that they want to achieve. And there are many people that have no idea of what they want out of life or any goals in life. It's actually about 26% people who don't have any idea about it. That leaves about 3% of people who actually achieve their goals almost 90% of the time. That's a really low number of people who actually get to their goals and make those goals.
A well defined list of goals that people want to attain is something that everyone needs. People need a starting point and a finishing point for your goals and need to get started on them right away. As a matter of fact making a list of goals is something that should be then first goal.
Objectiveli concentrates on driving outcomes by using a simple and intuitive interface that shows users how to replace traditional tools, such as emails, post-its and spreadsheets with empowering applications that fulfill goals, aspirations and visions. Take a quick tour of Objectiveli.
Objectiveli was founded by Ritu Raj in the year 2012 to create an application to manage Goals and Objectives in real-time; Driving Outcomes instead of managing "things to-do". Ritu is a successful entrepreneur he founded OrchestratorMail - an email based platform for coordination, Wag Hotels, the largest chain of Dog Hotels. Prior to that Ritu was a Partner at Accenture, and in early 2000 founded Avasta, one of the first Cloud Computing companies.