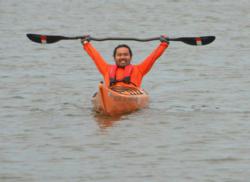 The greatest experience in life is being able to give something to someone, who would otherwise never get to experience it.
Naples, FL (PRWEB) August 28, 2012
Shortly after his May graduation, Hector Manley started on a kayak journey down the Mississippi River and just this week, finished by reaching the Gulf Coast in front of Hurricane Issac. Many have kayaked the river before, but what sets Manley apart is that he is raising money for two worthy charities, The total trip was approximately 100 days, 2,700 miles and was sponsored by Rotary Club International and XT50 Online Fitness.
His voyage, Paddling for a Purpose, will raise money for the Wheelchair Foundation and the Wounded Warrior Project. "I've heard The greatest experience in life is being able to give something to someone, who would otherwise never get to experience it and through this adventure, we will be able to deliver an entire container of wheelchairs to a less fortunate country where they rarely available. As a double amputee, I am aware of the impact, mobility and independence can make on someone's life.
Born in El Salvador, Manley endured losing his legs in a 2001 earthquake. He was 11-years-old. Americans Don and Karen Manley were on the board of trustees at the hospital he was sent to. They brought him to their home in Ohio, where he was fitted with prosthetic legs, and later made the decision to adopt him. "Coming to the States was like being a baby again. I had to learn how to talk and walk as well," he said.
Manley excelled in his new environment. He gained recognition for learning English so quickly. Not only did he learn to walk, but as a high school Freshman he made the Varsity golf team. When his parents moved to Naples, Fla., Manley founded the golf team at his new school, Seacrest Country Day. During his senior year he was awarded the Key to the City of Naples for his contribution to the community and overcoming obstacles.
Much of Manley's training for this challenge included fitness training and exercise routines from XT50 Fitness. The online workouts provide powerful strength training and endurance for the grueling miles he had to put on his boat every day.
XT50 is an advanced online fitness program designed for any age or fitness level and provides a gym quality workout with real results. Many fitness plans lead to "plateaus" where the body becomes accustomed to the routines, and sadly, diminishing results. Instead, XT50 provides a variety of fat-burning, muscle-perfecting exercises that continually challenge your body. You get maximum results with every workout. New cross training workout routines are posted every week and you have unlimited access to the entire library of online workout videos thru any internet connection.
The XT50 program is based on simplicity and ease of use for the end user. There are no journals, form or planners to fill out. Members simply workout 3-4 times a week by picking any workout from the library, and follow along at their own pace and intensity. Each session has a 10 minute warm up, 30 minute workout, and 10 minute cool down. Workouts are named after states in the U.S. and members are encouraged to work on completing all 50.
The XT50 workout plan was developed by Jim Steffen of XT Fitness. Jim has appeared on Jay Leno, Live! with Regis and Kelly, ESPN's Sports Nation and numerous other outlets as America's Fun Fitness Coach and he regularly speaks to businesses, schools and organizations around the country about the importance of a good physical fitness workout plan and how it improves everything in your life.
Additional details and contact information is available at http://crosstrainingandfitness.com