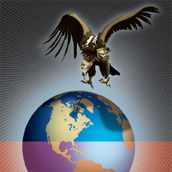 It's going to get better; but, first, it's going to get worse
Tucson, Arizona (PRWEB) August 30, 2012
Economic expert Darryl Robert Schoon's daily news coverage of the economic crisis is now free; subscription, registration and login are no longer required. He predicted the 2008 financial collapse. He's now predicting more trouble is ahead.
In "Time of the Vulture: How to Survive the Crisis and Prosper in the Process" (2007), Darryl Robert Schoon predicted real estate prices would fall 40-70%, financial markets would collapse and the price of gold would double and triple. The book was ordered in 25 countries.
Schoon believes the current crisis has entered a far more dangerous stage - a currency crisis has begun that will destabilize global markets and threaten the value of all currencies.
Schoon has given talks on the economic crisis in the US, Europe and Australia. In the attached video "CrossTalk on Ireland: Doomed In Debt" moderated by Peter Lavelle, Schoon discusses debt with Roland Amore of Oppenheimer Investments and Professor Mark Blyth of Brown University.
Schoon has a global following (66% of his readers are US-based, 33% are global). His news site, "Moving Through the Maelstrom with Darryl Robert Schoon", keeps readers current on the unfolding crisis and current events, providing a sense of stability and direction in uncertain times.
"Moving Through the Maelstrom with Darryl Robert Schoon", http://www.drschoon.com, focuses on economic events but offers articles and commentary on other subjects as well. In a current article, "9/11, Gold, Money, and Power", Schoon discusses suspicious transactions involving hundreds of billions of dollars in secretly cleared securities between the Bank of New York and the Federal Reserve Bank following the attack on the World Trade Center, transactions that raise disturbing questions about 9/11.
The Wall Street Journal reported: "There is every reason to believe activities in the Bank of New York in the aftermath of September 11th are worthy of suspicion…At one point during the week after September 11, the Bank of New York publicly reported to be overdue on $100 billion in payments." (Click on Fedwire Funds Transfer chart for details.) The suspicious imbalances at the Bank of New York were exempted from regulatory record-keeping by the SEC.
In addition to "Time of the Vulture: How to Survive the Crisis and Prosper in the Process", Darryl Robert Schoon has written: "You Can't Always Get What You Want" (a novel), "Light In A Dark Place", "Is God Confused?" and "The Way To Heaven", see
http://www.drschoon.com/bookstore.asp
On May 5, 2007, in his article, "Subprime America Infects Asia and Europe", Schoon predicted a "severe financial crisis" would occur that summer. [In July, two multi-billion dollar Bear Stearns hedge funds collapsed and in August, a credit contraction swept global markets.]
In that article, Schoon predicted:
"… the consequences of such will be felt around the world. Today, afternoon tea and scotch flow freely in The City as does dim sum in Hong Kong and Shanghai and sushi in Tokyo around their respective bourses. Soon, however, the risks that have lain dormant beneath globalization's foundation are about to erupt and a reordering of the world's financial geography is about to ensue."
"It's spring 2007 and the sun is shining in the US, backyard BBQs are being cleaned in anticipation of summer's use. A severe financial crisis, however, is in the offing; a crisis as unexpected as the Golden State Warriors' last minute streak to the NBA playoffs."
"An unexpected financial crisis, however, will be much more consequential than Don Nelson's magical resurrection of the Warriors' NBA hopes. There, at least, the Warriors will have a fighting chance."
On February 8, 2011, the title of Darryl Robert Schoon's blog at the Positive Deviant Network, http://www.posdev.net, was "Severe Earth Changes Coming". Thirty-one days later on March 11th, a massive 9.0 earthquake and tsunami struck Japan.
Schoon now predicts that more financial dislocations and earth changes are coming. Schoon believes the world is experiencing an historic paradigm shift that will alter social, economic, religious and political institutions. The result will be a better world but the transition will be difficult, a view shared by Buckminster Fuller.
Darryl Robert Schoon, in addition to being a writer and speaker, is an ordained minister at the Temple of Universality in Tucson, Arizona. He is also an owner of a condom company, Mr. Happy's Hat, Inc., http://www.mrhappyshat.com .
"Moving Through the Maelstrom With Darryl Robert Schoon" is a division of SchoonWorks offering daily news updates, commentary and analysis on economic issues. No individual investment advice is given or intended.