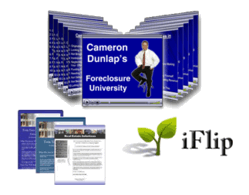 iFlip is absolutely amazing for those who want to save time and ultimately make more money
Orem, UT (PRWEB) August 31, 2012
Recently a Cameron Dunlap iFlip review was just revealed by Foreclosure University and is getting some real attention in the real estate community. So what exactly is iFlip and how will it change real estate as we know it?
iFlip is special software, created by Cameron Dunlap himself, that allows investors to automate much of the foreclosure investing process. This software is unique in it's multitasking abilities that effectively help the investor generate more leads and do more deals.
Here's a closer look at the software
The software basically recruits bird dogs. Bird dogs are those people who go out, find deals, and get paid. Because bird dogs are an essential part of doing more deals, iFlip attracts bird dogs through simple landing pages and then manages those bird dogs for the investor. iFlip even trains the bird dogs what to look for and how to submit properties into the system.
The investor get 3 websites. One website to find the bird dogs, another to attract buyers and the last to attract motivated sellers. All these leads are managed and maintained in the iFlip system so much of the process is automated which frees up the investors time to do more important things.
All the investor has to do is create and place ads in local newspapers or online media channels like craigslist to attract bird dogs, buyers and motivated sellers. Investors will be able to see what ads are working now and what media channels to use when attracting these different groups.
iFlip also contains 15 video tutorials on how to successfully invest in real estate. Cameron Dunlap, one of the veterans in the real estate industry, recorded 15 videos of how the foreclosure process works and exactly what to look for. He also has a whole team dedicated to helping investors leverage their time and focus on the most important things.
"iFlip is absolutely amazing for those who want to save time and ultimately make more money," says Jarad Severe, owner of Foreclosure University. "One can't ask for a better mentor than Cameron Dunlap."
Right now Cameron is running a special trial offer. Go to the official website now for more details.
For those looking a complete Cameron Dunlap iFlip review go to http://www.ForeclosureUniversity.com