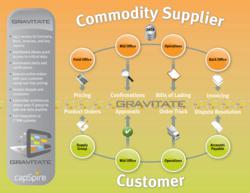 Gravitate enables web-based deal capture, transforming an otherwise cloistered E/CTRM solution from an internally focused transaction management system into a functionally rich e-commerce platform
Tulsa, OK (PRWEB) August 29, 2012
capSpire, a global commodity trading and risk management consulting and solutions firm, is the focus of CommodityPoint's latest Technical Briefing Note which features capSpire's Gravitate Web Portal.
In the briefing, CommodityPoint highlights Gravitate's unique ability to enrich and expand companies' CTRM capabilities through custom, web-based software development.
"Not only does Gravitate extend and enhance E/CTRM system capabilities…it also enables web-based deal capture, transforming an otherwise cloistered E/CTRM solution from an internally focused transaction management system into a functionally rich e-commerce platform," the Technical Briefing states. "Given these capabilities, [Gravitate] is clearly an innovative and unique solution for the energy and commodity markets."
CommodityPoint provides insight and analysis of CTRM trends, tools and technologies. To download a copy of the Gravitate Web Portal Briefing, please visit our site.
About capSpire:
capSpire is a global consulting and solutions company serving the Commodity Trade and Risk Management sector of the energy industry. Headquartered in the growing technology hub of Fayetteville, Arkansas, with an office in Tulsa, Oklahoma, capSpire has served over two dozen clients across North America and Europe. capSpire provides its clients with deep business and system expertise to simplify and streamline its commodity management functions for crude, natural gas, refined products, NGLs, coal, iron ore, agriculture and freight. Chief among its service offerings are IT strategy and planning, system selection, bespoke software development, implementation services, systems integration and ongoing support.