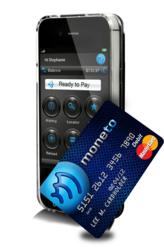 Our multi-platform mobile payment solution is proud to be fundamentally customer focused, and we are responding to them with an irresistible value proposition.
Richardson, TX (PRWEB) August 28, 2012
moneto, the world's first multi-platform Near Field Communication (NFC) based mobile payment service for iPhone and Android, announced today various enhancements that add to the unique program. The upgraded program comes equipped with new products, additional features, more handset support, lowered pricing and a brand new website.
"We're excited to release the enhanced moneto mobile service," said Youri Bebic, DeviceFidelity's General Manager for moneto programs. "We've made the program smarter and more feature rich to ensure we give our customer base what they want. Our multi-platform mobile payment solution is proud to be fundamentally customer focused, and we are responding to the marketplace with an irresistible value proposition."
EXPANDED FEATURES
Now moneto becomes the world's first payment app to combine NFC in-store payment with free person-to-person money movement capability within the program.
This new "Money Move" feature is available to both iPhone and Android consumers through the moneto app and allows electronic instantaneous movement of money from one moneto cardholder to another, absolutely free. With this new feature, moneto users will be able to send their friends and relatives money quickly, making group dining and outings easy to manage by eliminating inconvenient trips to the ATM .
NEW PRODUCTS:
More storage for Android users
In direct response to customer feedback, the moneto mobile wallet for Android now comes with 4GB of additional storage for photos, videos. The additional storage will allow an Android user to have NFC for mobile payment transactions on their Android device along with four times the storage.
In addition to expanded storage, the moneto mobile wallet for Android now includes mobile device support for the Samsung Galaxy SII (AT&T and T-Mobile), Samsung Infuse 4G (AT&T), and HTC Sensation 4G (T-Mobile) devices. These four devices join the Samsung Galaxy S i9000, Samsung Vibrant, Samsung Fascinate, Samsung Mesmerize, Samsung Showcase, Samsung Galaxy S 4G and the Samsung Epic 4G devices. The addition of the popular Android devices provides millions the access to NFC on their phone for mobile payments, allowing consumers to make in-store purchases where MasterCard® PayPass is accepted.
More battery juice for iPhone users
An exciting new addition to the lineup of popular NFC cases for iPhone is moneto X. Designed to work with the moneto microSD, moneto X includes the iCaisse4X, a powerful and multi-functional case that allows iPhone users to fully utilize the moneto features together with an extended battery providing additional talk and surf time
The new design is an amazingly protective and stylish hard shell two-piece case that allows iPhone owners to simply slide in their phone and instantly make mobile payments. The case itself doubles as an additional source of power complete with an extended battery that is controlled and monitored directly from the case. For the traveler constantly on the go with limited access to recharge, moneto X is one of the only extended battery cases on the market with a removable battery allowing users to carry yet another charged battery. The ingenious moneto X case is the only iPhone solution to harness the power of NFC for the iPhone while being fully equipped with an external battery pack.
WEBSITE
moneto's new online website, http://www.moneto.com, offers a more comprehensive look at the program as well as a fresh new design. The new website will allows visitors to get a better sense of the revamped program, easily obtain information, as well as access their online account to utilize such features as online bill pay, direct deposit and online card to card transfers.
NO MORE MONTHLY FEES
You can now use the moneto prepaid debit MasterCard® for FREE with NO monthly fees for the first three months. Plus, each additional month where at least $300 is spent is absolutely free*. For non-qualifying months, a market low monthly fee of only $2.95 will be charged.
PRICING & AVAILABILITY
The moneto mobile wallet is available for order online at moneto.com. moneto now offers three main products: moneto X with extended battery for iPhone retails for $79.96, the original moneto mobile wallet for iPhone with the new lower retail price of $59.95 and moneto 4GB for Android for $29.95.
Every moneto kit comes with a moneto microSD, a patented NFC case or NFC antenna sticker applicator, a prepaid debit MasterCard allowing users to access ATM's nationwide, and $10 preloaded onto the account. The FREE moneto app can be downloaded from the Android Market or Apple App Store and comes complete with a reload feature to add funds to moneto, a locator that lists merchants that accept NFC payments by zip code or current location, and the new Money Move card-to-card transfers.
OUR PARTNERS
The moneto program is brought to you through a partnership between DeviceFidelity, a leading provider of mobile plug and pay solutions, and TransCard, the primary driver of change in the prepaid access market. The card-to-card transfer feature and the low fee structure are a result of these partnerships. As program manager for moneto, DeviceFidelity will be adding several new features to the moneto program in the coming months – stay tuned.

Conditions and exceptions apply
**For a full list of compatible phones visit moneto.com/compatible.
About TransCard
Chattanooga-based TransCard is the leading provider of prepaid products to financial institutions of all sizes. The company's platform enables financial institutions to grow deposits and fee income, deepen their treasury relationships, expand product offerings to the underserved and turn unprofitable customers from cost items into contribution items. Financial institutions interested in offering prepaid programs should visithttp:/corp.transcard.com and follow us on Twitter.
About moneto:
moneto is a prepaid mobile wallet application that enables your favorite phones to make mobile payments with a cool technology called Near Field Communications, sometimes abbreviated to NFC. With moneto you can pay for purchases at more than 120,000 NFC enabled merchant locations nationwide and globally. moneto is based on In2Pay® technology developed by DeviceFidelity, Inc. For more information visit moneto.com, follow us on Twitter @moneto_me or at facebook.com/monetome