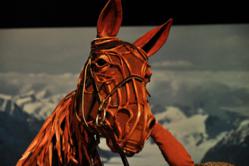 War Horse play has been a great success at its both London productions and its recent US debut at the Broadway's Vivian Beaumont Theatre also proved an instant success.
New York, NY (PRWEB) August 27, 2012
The War Horse Broadway production has been a great success in both London and the USA. The newly launched Broadway production earned many awards within a month of its US debut. The very latest award won by the War Horse is the "Drama Desk Award" which was held on May 23, 2011 for the outstanding play category. Earlier it won 1 Drama League Award, 3 Outer Critics Circle Awards and it has also been nominated for five prestigious Tony Awards including the best Play award. The winners will be announced at the 65th Tony Awards ceremony held on June 12, 2011.
War Horse play is an adaptation of a novel of the same name by the multi-award winning British children's author Michael Morpurgo. War House was his bestselling novel of 1982 and when British playwright Nick Stafford approached him with the idea of the musical adaption of War Horse, he though Nick's idea as insane but later got the best surprise of his life when the first War Horse stage production became a reality.
After getting a yes from Morpurgo, Nick wrote the script and it made its first stage debut at the Royal National-Olivier Theatre in South Bank, London on October, 2007 and it ran through February 14, 2008. The second run of the play ran from September 10, 2008 through to March 18, 2009. In 2008 War Horse earned Nick Stafford the 2008 Laurence Olivier Award nomination for Best New Play. Nick did not end up winning this Olivier Award but managed to win two other 2007 Laurence Olivier Awards for "Best Set Design" and "Best Theatre Choreographer" categories. In the first season, War Horse won the "2007 Evening Standard Award for Best Design" followed by the "2007 Critics' Circle Theatre Award for Best Designer."
After a successful South Bank debut, War Horse moved to the legendary West End's New London Theatre and began performing in April, 2009 with the same success. In 2010 War Horse ran with 97% capacity becoming the highest earning play in the history of the West End. Kit Harington played the role of the main character, Albert Narracott, at both London theaters. However, the biggest spectacle of the West End production was its life-size horse puppets. It was an amazing feat to put such large sized wooded horses on stage with nearly transparent fabric skins and convenient on-stage mobility.
A US and Broadway debut began on March 15, 2011 at the Vivian Beaumont Theatre and it was originally scheduled to run through June 26, 2011 but due to overwhelming demand it is now on an open-ended run. The Broadway cast of War Horse features Seth Numrich as Albert. War Horse will visit many large North American cities throughout 2012. The cities that this phenomenal production will visit are (in alphabetical order by city): The traveling tour for War Horse will visit the following cities and venues in alphabetical order by city: Fox Cities Performing Arts Center in Appleton WI, Fabulous Fox Theatre in Atlanta, Boston Opera House in Boston MA, Belk Theatre in Charlotte NC, Cadillac Palace in Chicago, Procter & Gamble Hall - Arnoff Center in Cincinnati OH, Palace Theatre in Cleveland OH, Ohio Theatre in Columbus OH, Segerstrom Center for the Arts in Costa Mesa CA, Winspear Opera House in Dallas TX, Des Moines Civic Center in Des Moines IA, Durham Performing Arts Center in Durham NC, Wharton Center Cobb Great Hall in East Lansing MI, Au Rene Theater - Broward Center for the Performing Arts in Fort Lauderdale, FL, Orpheum Theatre in Minneapolis MN, Vivian Beaumont Theatre at Lincoln Center in New York, Academy of Msic in Philadelphia, Benedum Center in Pittsburgh, Keller Auditorium in Portland, Providence Performing Arts Center in Providence RI, Fabulous Fox Theatre in Saint Louis MO, Curran Theatre in San Francisco CA, Paramount Theatre in Seattle WA, INB Performing Arts Center inSpokane WA, Carol Morsani Hall - The Straz Center in Tampa FL, Gammage Auditorium in Tempe AZ, Princess of Wales Theatre in Toronto, Kennedy Center Opera House in Washington DC.
One million horses, mules and donkeys sent to Western Front to server British Army during war only 67,000 survived. These horses played a great role during the War as confirmed by the World War I historian Richard van Emden.
The adopted horse of the play is Joey that belongs to young Albert Narracott but sold to warriors in France to sever as horseback. Joey first serves for the British Army and after being captured serves for the German army before they place him in no man's land because he is wounded. Albert who still misses his beloved horse finally decides to go on a mission to search for Joey. The play ends when 16 year old Albert finds his pet horse and best friend Joey and brings him home to Devon.
About the company:
CheapConcertTickets.me delivers tickets to sold out concerts and events worldwide when no one else can and they do so at discounted prices. As a member of TicketNetworkDirect they can guarantee deliver of tickets on time for sporting events like NASCAR, NBA, NFL, and NHL, and for the hottest theater and concert events too. With CheapConcertTickets.me customer service is a priority, for more information email support(at)cheapconcerttickets(dot)com. This website also has great pricing on Wicked Tickets, The Book of Mormon Tickets and One Direction tickets.