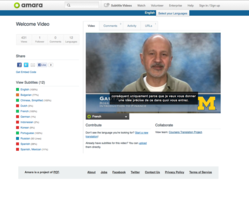 "The ability to translate video content is absolutely central to the business model of online education."
New York, NY (PRWEB) August 28, 2012
Amara, a crowd source subtitling platform that engages volunteers from around the world to translate online videos, announced today that it's being adopted by the world's leading online education providers, including Coursera and Khan Academy, to make academic video content globally accessible.
Launched in 2010, Amara has already added more than 200,000 subtitles in 100 different languages to online videos. This radical new approach to subtitling allows video makers to breakdown political, social and cultural barriers to reach a vastly wider audience. For instance, Amara volunteers subtitled the KONY 2012 video in 30 languages in just two days. Amara's educational applications stand to disrupt the education space, particularly with the nonprofit's new partnership with Coursera and Khan Acadmeny.
"Amara's captioning and translation services have helped Coursera deliver educational videos to hundreds of thousands of students around the world," said Andrew Ng, co-founder of Coursera. "This was key to making our content accessible to non-native speakers, and has allowed our content to be delivered in dozens of languages."
Coursera recently reached 1 million users, and its volunteer translation community is working to subtitle more than 1,200 college lectures. Some lectures are already available in more than 10 languages - a number that is quickly growing.
"Online education providers are racing to bring high quality education to people around the globe," said Nicholas Reville, chief executive officer of Amara. "The ability to translate video content is absolutely central to the business model of online education. Amara reduces the cost of captioning and translation by at least 95 percent, and allows companies to build a deeper engagement with their users. We're proud to work with organizations like Coursera and Khan Academy, which are building volunteer subtitling communities that are devoted to making education content accessible to the world."
###
About Amara
By partnering with organizations such as, PBS, TED Talks and Netflix, Amara gives individuals, communities, and larger organizations the power to overcome accessibility and language barriers for online video. Amara's technology offers a robust API that allows companies to use the platform for internal collaboration as well as allowing individual customers to translate video content. Backed by a million dollars in funding from the Knight Foundation and Mozilla, Amara's award-winning platform has been recognized by the Federal Communications Commission, the United Nations and TechAwards. For more information, visit universalsubtitles.org and follow @AmaraSubs on Twitter.
Media Contact:
Josh Segall
joshua(dot)segall(at)amara(dot)org
(334) 328-9184