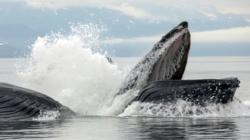 Juneau, AK (PRWEB) August 29, 2012
Whale Watch Alaska has recently noticed a number of whale watch accident rates climb over the last 2 weeks. Two boating accidents has ended up with whale watchers injured with one set of whale watchers in the emergency room. As a result the whales have been coming around visiting the boats individually. According to Captain Cory Mann of Whale Watch Alaska, "We are not sure if this is related to the direct impact of the boats hitting the hump back whales or not, but it sure feels like it. It feels like they are coming around either mourning their dead or coming by each boat about what happened."
Captain Cory Mann, a Tlingit - Native American, stated, "The local Native American Indians here believe that people as a whole have lost touch with animals and as a result have placed these symbols in their artwork in case someone comes back in touch with their reality, so they can show the rest of us how to speak with animals again. It is this belief that makes us think, at Whale Watch Alaska, that the whales are coming around to the boats and telling each boat, 'Hey, please be careful. Our family and friends are dieing here.'"
The Hump back whale in Southeast Alaska are more predominant than killer whales, meaning they are more seen than killerwhale. It is the hump back whale that has been hit recently. When out whale watching the entire mood of the vessel changes when coming close to the hump back whale. Captain Cory Mann stated, "It almost feels as if they are in your thoughts, bringing back the idea of being able to speak with them as outlined in the artwork.
If your out whale watching around the globe, Australia, Hawaii, or Alaska help the captain to be careful not only for your safety but for the safety of the whales. http://whalewatchalaska.com./"