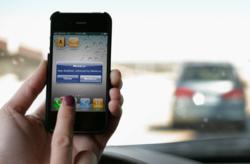 16-year-olds are 3 times more likely to die in a motor vehicle crash than the average of all drivers
Dallas, Tx (PRWEB) August 28, 2012
MobileLutions announced today, they have licensed MobiLoc to Ocean County, New Jersey as part of their teen safety program. As the smartphone technology is given to novice drivers, "the number of teens with smartphones, in July 2011 nearly tripled to 4.8 million in April from 1.7 million during the same period in 2009. (ComScore)", the risk to the younger drivers and others is increasing.
"Prosecutors have now been given great authority to charge a person with assault by auto or vehicular homicide, if it is proven that they were texting while driving," Ocean County Prosecutor Marlene Lynch Ford said. However, she said, the better option is to educate the public and deter the action in the first place. With the belief that prevention is better, the prosecutor's office and the Ocean County Association of Chiefs of Police have purchased MobiLoc and are distributing them to the public at no cost.
Here are some facts:
> Motor vehicle crashes:

are the leading cause of death among 15- to 20-year-olds.
16-year-olds have higher crash rates than drivers of any other age.
16-year-olds are 3 times more likely to die in a motor vehicle crash than the average of all drivers.
> Teenage Drivers

accounted for 12% of all drivers involved in fatal crashes in 2008 and 14% of all drivers involved in police-reported crashes.
63% of teenage passenger deaths in 2008 occurred in vehicles driven by another teenager. (IIHS).
The number of drivers ages 15-20 involved in fatal crashes totaled 5,864 in 2008.
In 2006 (latest data available) crashes involving 15- to 17-year-olds cost more than $34 billion nationwide in medical treatment, property damage and other costs, according to an AAA analysis.
> According to the National Highway Traffic Safety Administration and the National Center for Statistics and Analysis, in 2008:

Hand-held cellphone use was highest among 16- to 24-year-olds.
37% of male drivers ages 15-20 who were involved in fatal crashes were speeding at the time.
55%, or 2,014, of the 3,678 occupants of passenger vehicles ages 16-20 who were killed in crashes were not buckled up.
31% of drivers ages 15-20 who were killed in motor vehicle crashes had been drinking some amount of alcohol; 25% were alcohol-impaired, meaning they had a blood alcohol content of 0.08 grams per deciliter or higher.
> What is the take away?

Teenagers are at serious risk in a motor vehicle without the addition of cell phones
Teenagers do not follow the rules/laws that are in place.
"Every parent's nightmare is that a young driver will drive while intoxicated, exposing himself and others to injury or death. Yet driving while distracted is almost as lethal a practice," said Beach Haven Police Chief Kevin Kohler, president of the Ocean County Chiefs of Police Association. "
Larry Eppard, MobileLutions founder, says, "While we originally built a software app and service for corporations to deal with cell phone policy enforcement and tracking, we believe the teen issue is a real issue for parents and are excited about the potential to get the same technology in the hands of teens."
MobileLutions is a leader in providing software solutions to prevent distracted driving accidents and reducing corporate exposure to this risk. The MobiLoc solution is built to enforce and monitor company level policies across the organization for a standard enforcement of the policies. See more at http://mobilelutions.com.