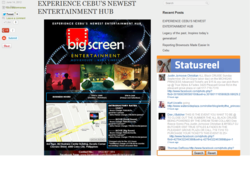 New Orleans, LA (PRWEB) August 28, 2012
Statusreel provides a venue where users can search among millions of facebook statuses posted every day. On each users facebook account, they can only see their friends' stream of status on facebook. Facebook has this privacy policy wherein users who are not connected will have limited visibility on the user's facebook page. Statusreel eliminated this limit, because with Statusreel, users have the visibility of all statuses for facebook from all the users worldwide. This provides an enormous deal of information that may come in handy to Facebook users, bloggers, and entrepreneurs and so on.
Statusreel is a reliable tool to connect people with the same interest through status search. Statusreel can be embedded in one's blog or website for easier access or can be used as a standalone program. The installation process can be easily done in a short period of time. The facebook status widget is customizable to be in sync with the website's design and layout.
Online users do not need to create an account or register to be able to access Statusreel. It can be used by simply providing Facebook credentials. Being able to search through face book status will provide immense idea for bloggers of the most talked about subject online. With such knowledge, bloggers will be able to get relevant information and ideas on what to write about to increase online visibility and readership.
Statusreel offers the ability to search through statuses on facebook by simply entering keywords or a phrase. This way, bloggers can find people who share the same advocacies, interests and passion. This Facebook status application provided by Statusreel allows anyone to search into the archived statuses according to popular Facebook status categories. Some of the most common statuses on facebook are love status, funny status, and pickup statuses.
Online marketing has also become popular in this era of social media. Most businesses offer online selling and marketing. Having a stream of facebook status on marketer's website is an effective tool to create a survey on how well their product is doing. This way, they can provide a personal touch in reaching out to their customers and can offer constant support to their valued clients. Since most product reviews are being posted through facebook status from satisfied and dissatisfied customers, businessmen can easily filter millions of statuses by typing their brand name in Statusreel status search. Status feed from Statusreel is being updated real time. This way, entrepreneurs will be able to have a timely update on the standing of their product on the market.
About Statusreel
Statusreel.com is an application designed to provide users a real time feed of Facebook Status online. Users have the option to view specific theme of status, from funny status to famous status and all the other categories of status on facebook. Statusreel real time feed of status maybe embedded to a wedbsite – a status box or widget, absolutely free!