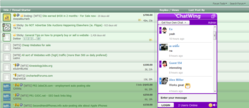 Philadelphia, PA (PRWEB) August 28, 2012
Two of the most powerful communication tools in the internet are the Forum and Message Boards. These two online tools allow archiving of the posted ideas and opinions shared by anyone making them appealing internet items to web surfers. In a forum or message board, internet users can post anything they have in mind and receive comments and reactions from other web surfers. Adding Chatwing's chatbox in a forum or message board will definitely perk up the interaction in online forum board communities.
To many, online forum boards serves as a help tool from which they can solicit advice and assistance from people who are skilled and knowledgeable on the topic at hand. It is really uplifting to find that many kind-hearted people offer solutions to even the simplest problems posted in message boards in the internet. Chatwing's free shout box is a good supplement to online forum boards. With this chat widget, forum participants can assist each other or provide the procedures in real time to those who seek technical support therefore achieving a speedier solution to problems.
The message boards are also a good research tool especially now that almost all significant topics in the world have been discussed in forum boards. Internet surfers can look into the archived messages and extract posted messages that are of importance to them. The free live chat from Chatwing when integrated with online forum boards can greatly facilitate research activities of web surfers. Forums moderators who are online can provide assistance to internet researches. On the other hand, web researchers can also ask help and receive immediate reply for their exploration in the message boards from forum contributors who are online.
Chatwing's chatbox allows any internet user to join the free live chat. Users can log in with their social networking accounts or they can log in as guests. This openness of Chatwing's chat widget will be in line with online forum boards who allows message posts from members and non-members alike. But some online forum boards only allow members to post in their message boards. With the newly upgraded Chatwing chat software, moderators can also be added who will have the authority to either block users or delete messages or both. With this feature of the chat box, the exclusivity of the online forums community can still be achieved. The Chatwing chat widget can easily be installed. In just a matter of minutes, the free live chat box can be readily used in the online forum and message boards.
About Chatwing.com
Chatwing.com specializes in the new field of website and blog chat. Over years, the Chatwing team has introduced free live chat for hundreds and thousands of blogs. Its versatility and high rate of connectivity has engrossed online communities to utilize Chatwing's chat software. The Chatwing application bridges people of different race and culture, from many parts of the world, promoting global collaboration and camaraderie through the Internet. Chatwing is 100% free for everyone.