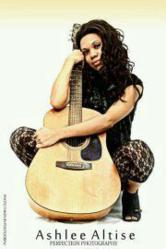 I'm just excited about people worldwide being able to hear me do what I love...
Philadelphia, Pennsylvania (PRWEB) August 28, 2012
R&B Singer Ashlee Altise, known by many as "the Joyhop Girl" from American Idol, is working on her first solo project since her national appearance on the reality singing competition. Though the dance initially amused judges Jennifer Lopez, Steven Tyler, and Randy Jackson, the trio quickly welcomed Altise to Hollywood when they realized that the vocalist exhibited strong talent and stage presence. With the Idol experience behind her, Altise has constantly been in recording music in and has even recorded tracks with big names in hip-hop such as Beanie Sigel and Ski Beatz.
See a behind the scenes video of Ashlee Altise recording with Beanie Sigel.
Altise gained national recognition when she performed her self-created Joyhop dance during her audition on Season 11 of American Idol before belting out her rendition of Tina Turner's "Come Together." During the initial airing of Altise's audition, #Joyhop became the number 5 trending topic on Twitter worldwide. After hearing her vocals and watching her overall performance, Steven Tyler declared that Altise had the "whole package" before the Idol judges welcomed her to Hollywood. Months later, TVLine's Melinda Doolittle and Michael Slezak declared Altise to be one of their favorite contestants ever.
Although Altise ultimately did not win the contest, the talented singer out of Wilson, North Carolina still has several large projects lined up. In addition to recording a record with Beanie Sigel (a Philadelphia-based rapper who plans to release his album "This Time" on August 28, 2012), the R&B singer plans to record several more songs in preparation for her first mixtape as a new artist. She also plans to book several shows and appearances in the near future. "I'm just excited about people worldwide being able to hear me do what I love…That's it," says the Joyhop Girl.
About
Ashlee Altise is an R&B singer hailing from Wilson, North Carolina. She gained notoriety during American Idol Season 11 for performing her self-created dance, the Joyhop. To find out more about Ashlee Altise follow her on Twitter (handle AshleeAltiseNC), like her Facebook page or visit her Artist page. For booking and press inquiries, email bossdynastymgmt(at)gmail(dot)com.