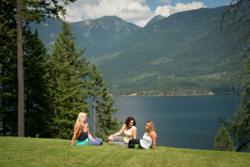 Nature has healing qualities that in our busy modern lives we tend to ignore or have ceased to really know about," says Kirkland Shave, Program Director. "We're living in a culture that is suffering from Nature Deficit Disorder.
British Columbia, Canada (PRWEB) August 28, 2012
A recent study in the Preventative Journal of American Medicine shows evidence that contact with the natural world—with animals, plants, landscapes, and wilderness—may offer health benefits. The study suggests that taking seriously our affiliation with the natural world—may be an effective way to enhance health, not to mention cheaper and freer of side effects than medications.
Mountain Trek Health Spa and Wellness Retreat in British Columbia, uses hiking in the mountain alpine as the core fitness element of their self described, boot camp style program. Aside from the main weight loss component, clients attend Mountain Trek for the overall wellness and stress reduction it offers. Housed in timber frame lodgings overlooking a glacier fed lake in the Rocky Mountains, Mountain Trek guests spent 5 to 6 house outside every day. "Nature has healing qualities that in our busy modern lives we tend to ignore or have ceased to really know about," says Kirkland Shave, Program Director. "We're living in a culture that is suffering from Nature Deficit Disorder."
The term Nature Deficit Disorder was first coined by writer Richard Louv in his book Last Child in the Woods: Saving our Children from Nature Deficit Disorder. This is the the first book to bring together a new and growing body of research indicating that direct exposure to nature is essential for healthy childhood development and for the physical and emotional health of children and adults.
Shave supports the findings saying that Louv directly links the absence of nature in the lives of today's wired generation to some of the most disturbing childhood and adult health trends: the rise in obesity, attention disorders, and depression. "You really can't dispute his theory, the reduction in stress and elevated sense of wellness that is experienced by our guests who spend time of each day in nature directly supports his findings."
While this provocative book is raising debate and tough questions it has also resulted in a new movement in the US, Leave No Child Inside. The campaign is aimed at eight to twelve year olds to foster a lifelong interest and love in nature. "Besides improving their physical and psychological health, it will make them more environmentally conscious." (Scientific American, 4 August 2009).
Nearly half of Americans are overweight or obese, and the majority of them are always trying to find ways to lose weight. Where weight loss and exposure to the natural environment overlap is in the sense of vitality people feel from spending time outside. In a recent study, Charles Swencionis of the Ferkauf Graduate School of Psychology at Yeshiva University in New York looked at how vitality and overall physical and psychological quality of life would be affected by weight loss in a sample of 588 overweight individuals. He found that even with a modest weight loss of only 5 pounds, the participants had lower levels of depression and anxiety and higher levels of vitality and weight loss.
Prior to their work in the health and wellness industry Shave and Head of Fitness at Mountain Trek, Cathy Grierson, have worked as a park ranger and wilderness survival instructor to at risk youth. "It's something that we've noticed over the years, how different people are when they are outside," says Shave. "Ninety percent of our guests are urban and deal with sensory overload on a regular basis. Sound, visuals, light, movement and smells are all way too intense in the city and get filtered out and dumb down to minimize the stimulus. It's not until not until being with us for at least three days and being in nature 4 hrs/per day the senses reawaken and guests start to hear the birds, notice the wind rustle through the trees and feel it on their skin."
The findings at Mountain Trek are echoed in an article in Newsweek by Dr. Andrew Weil, on Nature Deficit Disorder offers the finding that "the human body was never designed for the modern post industrial environment." Weil suggests that the sedentary lifestyle that humans spend indoors, industrial food altered from its natural sources and an unprecedented overload of information and stimulation affect health in the way of depression, reduced physical activity and over consumption of processed food to name a few.
Much work is being done to gather the scientific evidence supporting the benefits of living close to nature as a necessary enhancement for overall health and wellness. Shave offers that raw elements infiltrate the senses and resonate with a paleolithic past. "As the senses reawaken in nature, the stimulus received is a motivator to work harder, says Shave. Passing wild heather in the mountain alpine, we've notice eyes bulge and hikers get lost in the smell and sensation and ignore the burning of their thighs. You don't get that in the gym."
Kirkland Shave
Mountain Trek Health & Wellness Retreat
http://www.mountaintrek.com
1.800.661.5161