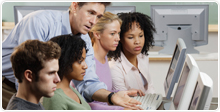 We have a No Hassle, No Paperwork claims process that has earned us 5-star ratings from our clients.
(PRWEB) August 29, 2012
iPads and Macbooks have become increasingly commonplace in K-12 classrooms and universities across the United States. In response to this trend, leading electronics warranty provider Securranty is pleased to announce its classroom warranty program for iPads and Macbooks.
Securranty's classroom warranty covers a range of scenarios likely to be encountered in a classroom or campus environment, including mechanical and electrical breakdowns, accidental damage, liquid damage and other mishaps. Securranty offers the most comprehensive coverage that comes with a hassle free claims process. Securranty's Online Account Management system processes claims quickly and simply. Claims can be easily made 24/7, perfect for students and teachers.
Many insurance and warranty providers require forms to be completed before a claim is paid. Securranty has a no hassle, no paperwork claims process that has earned it 5-star ratings from its clients.
Seccuranty provides competitive proposals based on clients' needs. Securranty's Chief Executive and industry expert, Alex Davidson, states "We customize our program to meet your needs – we do not believe one size fits all," Davidson says. "We provide options for coverage and claims that no one else will."
For more information about Securranty's classroom warranties or to receive a competitive cost proposal, please visit http://www.securranty.com and select "Business & Education."
About Seccuranty
Seccuranty is a leading provider of warranties for customer electronics, including cell phones, laptops, desktops, exercise equipment, home appliances and more. Securranty offers a state-of-the-art Call Center, Depot Repair Services and a vast national network of local repair centers.
Securranty aims to be "the choice" of smart shoppers in the consumer electronics warranty and protection industry. All Securranty policies are guaranteed during the full term of the service contract as they are backed by a Licensed Administrator and regulated by the Department of Licensing & Regulations to ensure obligation, compliance and guarantee. For more information, visit http://www.securranty.com.