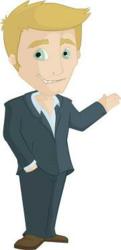 Austin, Texas (PRWEB) August 28, 2012
BetterNetworker recently posted a video on the site that shows members of the ABN (Association of BetterNetworkers) how to find their "hidden" leads on the site.
The video, created by ABN member Angus McEwan, takes viewers through the process of how to find leads they captured on BetterNetworker.com using the customizable lead capture form available exclusively for ABN members to display alongside every piece of content they post on the site. This feature is one of the many benefits available for ABN members. Other benefits include the ability to post content on the site, access to premium training in the "Leaders Library," and the ability to use the ABN "verification seal" on their personal website and/or blog as an indicator of their online credibility.
McEwan, a BetterNetworker member since May 2012, created the video after realizing that was previously unaware of how to locate the leads he had captured on the site, and that it was likely other ABN members were unaware as well.
In the video, McEwan shares his screen and demonstrates how to create a lead capture form, enable it when uploading a new piece of content on BetterNetworker, and then shows viewers where to go in order to locate captured leads, as well as how to download the names and email addresses associated with these leads.
"BetterNetworker is a brilliant way to share your content," says McEwan. "If you're an [ABN] member, check and make sure that you've got leads. You might be surprised to find that you've got some hiding."
BetterNetworker was so pleased with the quality of the video, they decided to feature it in an email sent exclusively to ABN members, as well as in one of their weekly "What's Hot" newsletters.
"Angus created a great video that's highly informative and helpful for our members," says Editor Andrew Draughon. "He brought to light something that ABN members may not be aware of. The ability to generate leads is a huge benefit of being part of the ABN, and so it's very important that people be able to capitalize on these leads so that they can connect with them and potentially establish a relationship."
More information about the ABN can be found by clicking on the following link: http://www.betternetworker.com/access/member